Natural Gas Distribution: India & World
Subscribe to never miss an important update!
Natural gas – World Distribution of Natural Gas, OPEC. Distribution of Natural Gas in India, Petroleum and Gas Value Chain: Upstream, Midstream, Downstream sector.
Natural gas
Consists primarily of methane and
Propane, butane, pentane, and hexane are also present.
Liquefied petroleum gas (LPG) == Mixture of butane and propane.
Commonly occurs in association with crude oil.
Natural gas is often found dissolved in oil or as a gas cap above the oil.
Sometimes, pressure of natural gas forces oil up to the surface. Such natural gas is known as associated gas or wet gas.
Some reservoirs contain gas and no oil. This gas is termed non-associated gas or dry gas.
Often natural gases contain substantial quantities of hydrogen sulfide or other organic sulfur compounds. In this case, the gas is known as "sour gas."
Coalbed methane is called 'sweet gas' because of its lack of hydrogen sulfide.
Oil + Gas == Associated Gas – Wet Gas,
Only Gas == Non-Associated Gas – Dry Gas,
Hydrogen Sulphide in gas == Sour Gas,
Coalbed Methane == Sweet Gas.
On the market, natural gas is usually bought and sold not by volume but by calorific value.
In practice, purchases of natural gas are usually denoted as MMBTUs (millions of British thermal unit (BTU or Btu)) = ~1,000 cubic feet of natural gas.
Natural Gas Formation
Similar to the formation of Petroleum.
Natural gas was formed millions of years ago when plants and tiny sea animals were buried by sand and rock.
Layers of mud, sand, rock, plant, and animal matter continued to build up until the pressure and heat turned them into oil and natural gas.
Uses of Natural Gas
Electric power generation.
Industrial, domestic, and commercial usage.
Many buses and commercial automotive fleets now operate on CNG.
It is an ingredient in dyes and inks .
Used in rubber compounding operations.
Ammonia is manufactured using hydrogen derived from methane. Ammonia is used to produce chemicals such as hydrogen cyanide, nitric acid, urea, and a range of fertilizers.
Importance of Natural Gas to India
Power stations using gas accounted for nearly 10 per cent of India's electricity.
Despite the country reeling under a power crisis, gas power stations are lying idle due to lack of feedstock.
The Government has frozen the construction of new gas plants until 2015-16 because of gas shortages.
Existing plants are operating below capacity on expensive imported liquefied natural gas (LNG).
India's oil reserves are insufficient for its growing energy needs and situation is made worse by policy paralysis which increases the gestation period of the projects.
We need to diversify our energy basket through alternate fuels so that we need not have to bear the brunt of external shocks.
World Distribution of Natural Gas
Natural Gas in Russia
Russia has the largest natural gas reserves in the world (1,680 Trillion Cubic Feet (tcf)).
It periodically changes place with the United States as the world's largest or second largest producer.
Some of the world's largest gas fields occur in a region of West Siberia and east of the Gulf of Ob on the Arctic Circle.
The world's largest gas field is
Volga-Urals region also has significant gas reserves.
Natural Gas in Europe
Dutch coast and the North Sea (off the coast of Norway) have proven reserves.
Natural Gas in North America
The United States has proven natural gas reserves of 273 tcf.
Its largest gas field, Hugoton extends through the Oklahoma, Texas and Kansas.
Canada has an estimated 62 tcf of proven natural gas reserves.
The largest gas field is in Alberta.
Much of Mexico's natural comes from Gulf of Mexico.
Natural Gas in Africa
Central basin of Algeria and Niger Delta have proven reserves.
Natural Gas in Middle East
There is an enormous gas potential in the Middle East associated with the major oil fields in the Arabian-Iranian basin.
Iran and Qatar have the second and third largest natural gas reserves in the world, behind Russia.
Natural Gas in Asia
The largest gas field in Asia is in the North Sumatra basin of Indonesia.
OPEC – Organization of Petroleum Exporting Countries
12 member oil supply cartel.
Iran, Iraq, Kuwait, Saudi Arabia, Venezuela, and later joined by Qatar, Indonesia, UAE, Libya, Algeria, Nigeria, Gabon and Angola.
This group bargains with international Oil Companies so that profit margin will be high.
They control production and supply [for better profit margin] of crude oil to keep it below international demand.
It is only recently that Crude oil's prices have crashed due to shale boom in US –– the largest importer of oil and gas.
Distribution of Natural Gas in India
KG basin, Assam, Gulf of Khambhat, Cuddalore district of Tamil Nadu, Barmer in Rajasthan etc.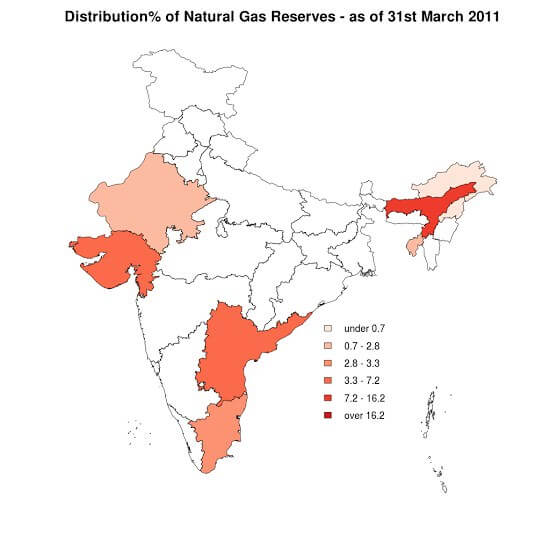 Petroleum and Gas Value Chain
Oil & gas industry is divided in Upstream, Midstream and Downstream sector.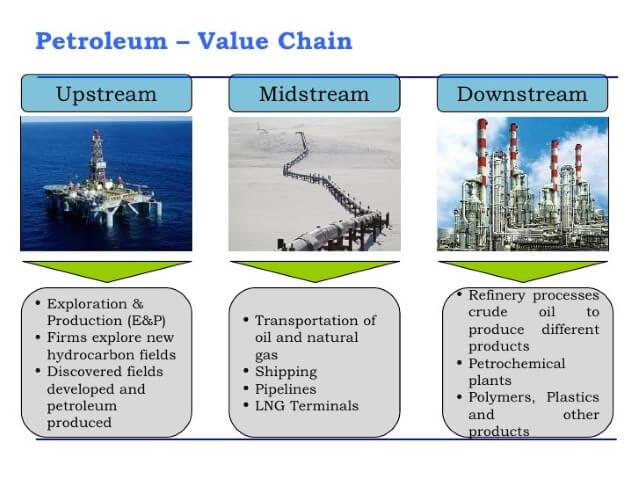 Upstream Sector
Oil exploration, prospection and extraction/production from oil wells.
New Exploration Licensing Policy, 1997
Promote exploration by providing a level playing field to private players against public enterprises.
Oil blocks are allotted under 'Production Sharing Contracts'.
In 'Production Sharing Contracts', investment and revenues is shared with government.
The private companies exaggerated or inflated their investment accounts and gobbled up public funds.
Open Acreage Licensing Policy (OALP)
There are demands to replace NELP with OALP.
Under OALP, oil blocks will be available throughout for sale. [government makes money by selling oilfields]
It allows ample time for explorer to study the fields and bid for block of his choice.
'National Data Repository' is prerequisite for functioning of OALP.
It will be a 'hydrocarbon data center' which facilitate prospection of resources.
Revenue Sharing Contracts
Seen as a better alternative to OALP and NELP.
Government gets share in revenue from the very beginning.
In contrast PSC (Production Sharing Contracts), allows government to have revenue share only after costs are recovered by the explorer.
In PSC, explorers inflate investment by classifying revenue expenditure (salaries, maintenance etc.) as capital expenditure (equipment, technology etc.).
This resulted in lower government share. It delays revenue to the government by decades.
Kelkar Committee Recommendations
Deep sea offshore Blocks – Production Sharing Contracts should be adopted.
Onshore and Shallow blocks – Revenue Sharing Model should be adopted.
Rangarajan Committee Recommendations
Suggested linking gas price to price of imported gas and gas prices prevailing in exchanges of USA, UK and Japan (weighted average) so as to bring it at parity with international prices.
This would result in increase of price from $ 4.2 mmbtu to$ 8.4 mmbtu, this formulae was not implemented (it will do serious damage to vote bank).
Midstream sector
This sector involves transportation of oil and gas from blocks to refineries and from refineries to distribution centers.
Most cost effective way is through pipeline, in comparison to road and railways which higher economic and environmental costs.
Current pipeline infrastructure is skewed in favor of North and West India, which accounts for 60% of gas pipelines and 80 % of gas consumptions.
To remedy this, central government has proposed to set up National Gas Grid under which additional 15000 km of pipelines will be laid down.
It will be executed under PPP model and will be eligible for 'Viability Gap Funding'.
Further, Gas Distribution networks are available in only few cities. In most of cities gas is transferred through bottling plants and distribution agency. This result in wastage by leakages and theft.
Viability Gap Funding
In some PPP projects in India, Central and state governments undertake to provide support funding to successful bidders.
Projects are awarded to those whose requirement for state funding is least.
Indian Oil Corporation and Gas Authority of India are involved in this sector.
Storage
Government is building underground storage capacity of 15 million metric tons for petroleum and related products.
The first phase construction is in progress in Vishakhapatnam, Mangalore and Padur [All coastal cities].
Storage facilities are essential for safeguard against shortages or supply disruptions.
Downstream sector
This sector involves refining, processing and marketing of products and byproducts of crude oil.
Primary References: PIB, Britannica etc.
Refer to the latest edition of Physical Geography Hardcopy/PDF and Current Affairs for the most updated information on this topic.
Rs. 369
Rs. 499
in stock
4 new from Rs. 369
as of November 30, 2023 8:42 AM
Last updated on November 30, 2023 8:42 AM