Distribution of Petroleum and Mineral Oil in India
Subscribe to never miss an important update!
Formation of Petroleum and Mineral Oil, Distribution of Petroleum and Mineral Oil in India, On-shore and Off-Shore Oil Production in India.
Petroleum and Mineral Oil
Petra == rock; Oleum == oil.
Petroleum or Mineral oil is obtained from sedimentary rocks of the earth.
Petroleum fuels on burning gives little smoke and leaves no ash. So they are better than coal.
Constituents of Petroleum and Mineral Oil
90 to 95 per cent Hydrocarbons.
5 – 10% organic compounds containing oxygen, nitrogen, sulphur and traces of organometallic compounds.
Formation of Petroleum and Mineral Oil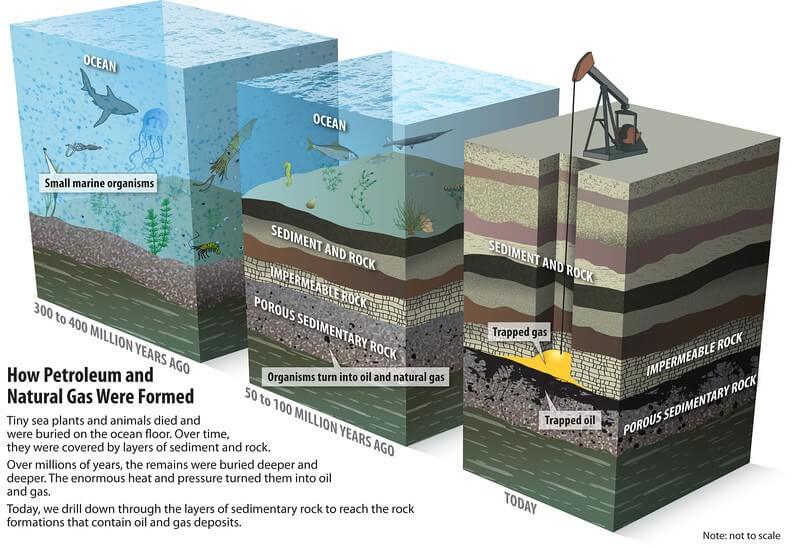 All sedimentary rocks do not contain oil.
An oil reservoir must have three prerequisite conditions.
Porosity [tiny gaps in soil] so as to accommodate sufficiently large amounts of oil;
permeability [allowing liquids or gases to pass through it.] to discharge oil and/or gas when well has been drilled;
the porous sandstone beds or fissured limestone containing oil should be capped below by impervious beds [not allowing fluid to pass through].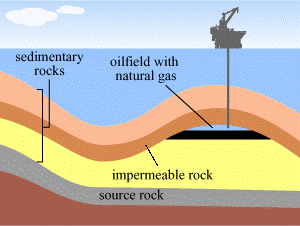 Most of the oil gets collected in the anticlines or fault traps.
Oil on a commercial scale is usually found in crests of anticlines [where the sedimentary rock strata are inclined and folded].
Distribution of Petroleum and Mineral Oil in India
Process began in tertiary period [3 million years ago].
Most of the oil reserves in India are associated with anticlines and fault traps in the sedimentary rock formations of tertiary times.
In tertiary period, aquatic life was abundant in various forms, especially the minor microscopic forms of flora and fauna.
Conditions for oil formation were favourable especially in the lower and middle Tertiary period.
Dense forests and sea organisms flourished in the gulfs, estuaries, deltas and the land surrounding them during this period.
Extent of Oil Bearing Strata in India
1 lakh sq km or 42 per cent of India covered with sedimentary rocks.
10 lakh sq km form marine basins of Mesozoic and Tertiary times.
Total continental shelf of probable oil bearing rocks amounts to 2 lakh sq km.
The total sedimentary area including both on shore and offshore comprises 27 basins.
Mumbai High, the Khambhat Gulf and the Assam are the most productive areas.
On-shore Oil Production In India
Brahmaputra valley of north-east India.
Barmer area of Rajasthan.
Gujarat coast in western India.
Cauvery on-shore basin in Tamil Nadu.
Andhra Pradesh has both on-shore and offshore oil reserves.
Assam Oilfields
Oldest oil producing state in India
The main oil bearing strata extend for a distance of 320 km in upper Assam along the Brahmaputra valley.
Oilfields of Assam are relatively inaccessible and are distantly located from the main consuming areas.
Oil from Assam is therefore, refined mostly in the refineries located at Digboi, Guwahati, Bongaigaon, Barauni and
The Digboi field

Tipam hills, Dibrugarh district
Oldest oil field of India

The Naharkatiya field

Left bank of Burhi Dihing river
32 km southwest of Digboi

Oil from this area is sent to oil refineries at Noonamati in Assam (443 km) and Barauni in Bihar (724 km) through pipeline.

The Moran-Hugrijan field

40 km south-west of Naharkatiya
Gujarat Oilfields
Ankleshwar, Khambhat or Lunej, Ahmedabad and Kalol, Nawgam, Kosamba, Kathana, Barkol, Mahesana and Sanand are important oilfields of this region.
Ankleshwar: Oil from this field is sent to refineries at Trombay and Koyali.
Rajasthan Oilfields
One of the largest inland oil discoveries was made in Banner district of Rajasthan.
Other important discoveries == Mangala oil field, Sarswati and Rajeshwari.
Rajasthan is the largest on shore oil producing state of India.
Off-Shore Production in India
Western Coast
Mumbai High, Bassein and Aliabet.
Mumbai High: 1974; rock strata of Miocene age.
Sagar Samrat, Bassein: south of Mumbai High.
Aliabet: Aliabet island in the Gulf of Khambhat.
Eastern Coast
The basin and delta regions of the Godawari, the Krishna and the Cauvery rivers hold great potential for oil and gas production.
The Rawa field in Krishna-Godawari off-shore basin is an important one.
The Narimanam and Kovilappal oilfields in the Cauvery on-shore basin are also important.
Petroleum Refining
India's first oil refinery started working way back in 1901 at Digboi in Assam.
1954: another refinery at Tarapur (Mumbai).
Refinery hub and refining capacity exceeds the demand. Excess refined oil and other petroleum products are exported.
Oil from wells is transported to nearest refineries through pipelines.
Advantages of Pipeline
Ideal to transport liquids and gases.
Pipelines can be laid through difficult terrains as well as under water.
It needs very little maintenance.
Pipelines are safe, accident-free and environmental friendly.
Disadvantages of Pipelines
It is not flexible, i.e., it can be used only for a few fixed points.
Its capacity cannot be increased once it is laid.
It is difficult to make security arrangements for pipelines.
Detection of leakage and repair is also difficult.
Crude Oil Pipelines
Salaya-Mathura Pipeline (SMPL)
Paradip-Haldia-Barauni Pipeline (PHBPL)
Mundra-Panipat Pipeline (MPPL)
Petroleum Product Pipelines
Remember locations of Oil Refineries and Major Oil producing centers. Pipeline are the ones that connect these centers.
Guwahati-Siliguri Pipeline (GSPL)
Koyali-Ahmedabad Pipeline (KAPL)
Barauni-Kanpur Pipeline (BKPL)
Panipat-Delhi Pipeline (PDPL)
Panipat-Rewari Pipeline (PRPL)
Chennai – Trichy – Madurai Product Pipeline (CTMPL)
Chennai-Bangalore Pipeline
Naharkatia-Nunmati-Barauni Pipeline == first pipeline constructed in India
Mumbai High-Mumbai-Ankleshwar-Koyali Pipeline.
Hajira-Bijapur-Jagdishpur (HBJ) Gas Pipeline == world's largest underground pipeline
Jamnagar-Loni LPG Pipeline == longest LPG pipeline in the world
Kochi-Mangalore-Bangalore pipeline
Vishakhapatnam Secunderabad pipeline
Mangalore-Chennai pipeline
Vijayawada-Vishakhapatnam pipeline
Share of Oil in India's Power Generation
India's Oil Imports
Primary References: NCERT Geography, Encyclopedia Britannica, Indian Geography by Kullar [Amazon and Flipkart]
Refer to the latest edition of Physical Geography Hardcopy/PDF and Current Affairs for the most updated information on this topic.
Rs. 369
Rs. 499
in stock
4 new from Rs. 369
as of November 30, 2023 8:42 AM
Last updated on November 30, 2023 8:42 AM