Copper, Nickel & Chromite Distribution across India & World
Subscribe to never miss an important update!
Distribution of key natural resources across India and World: Chromite Ore Distribution In India and World. Copper and Nickel Reserves in India and World. Alloys of Copper.
Chromite
Chromite is an oxide of iron and chromium = Combination of chromium, iron and oxygen.
It is the only economic ore of chromium.
The chromium extracted from chromite is used in chrome plating and alloying for production of corrosion resistant super alloys, nichrome, and stainless steel.
Used in many other metallurgical, refractories and chemical industries.
Chromite Ore Distribution In India
Reserves of chromite in India is estimated at 203 MT.
93 per cent of the resources are in ODISHA [Sukinda valley in Cuttack and Jajapur]
Minor deposits are spread over Manipur, Nagaland, Karnataka, Jharkhand, Maharashtra, TN & AP.
Chromite in Odisha
Odisha is the sole producer [99 per cent] of chromite ore.
Over 85 per cent of the ore is of high grade [Keonjhar, Cuttack and Dhenkanal].
Chromite in Other States
Karnataka is the second largest producer.
The main production comes from Mysore and Hassan districts.
Krishna district of Andhra Pradesh, Tamenglong and Ukhrul districts of Manipur are other producers.
Chromite Ore Distribution Across the World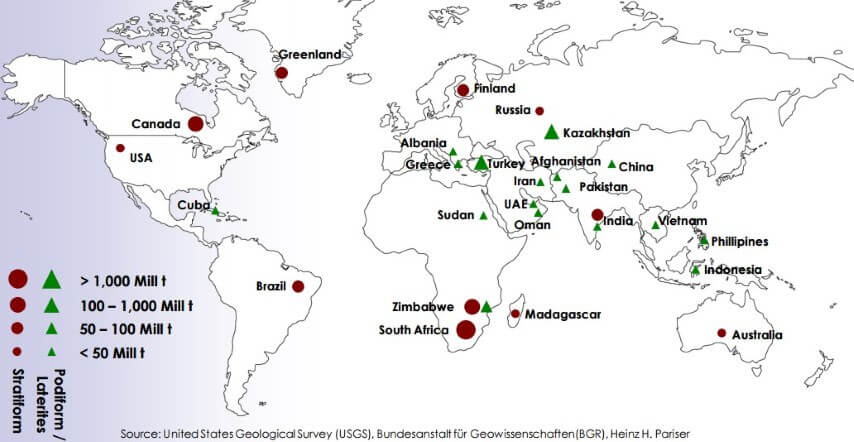 Copper
Copper is a good conductor of electricity and is ductile [able to be drawn out into a thin wire].
It is an important metal used by automobile and defense industries.
Alloyed with iron and nickel to make stainless steel.
Alloyed with nickel to make 'morel metal'.
Alloyed with aluminium to make 'duralumin'.
When alloyed with zinc it is known as 'brass' and with tin as 'bronze'.
Iron + Nickel + Copper + Chromite +…..== Stainless Steel.
Copper + Nickel == Morel Metal.
Copper + Aluminium == Duralumin.
Copper + Zinc == Brass.
Copper + Tin == Bronze.
Copper ore is found in ancient as well as in younger rock formations and occurs as veins and as bedded deposits
Mining for copper is costly and tedious affair because most of the copper ores contain a small percentage of the metal.
India has low grade copper ore [less than 1% metal content][international average 2.5%]
The major part of supply comes from the USA, Canada, Zimbabwe, Japan and Mexico.
Copper Reserves in India
46 million tonnes.
Rajasthan (50%)
Madhya Pradesh (24%)
Jharkhand (19%)
The rest 7 per cent in AP, Gujarat, Haryana, Karnataka etc.
Madhya Pradesh
1st in production [59.85 %].
Malanjkhand copper mines of Balaghat district are the most important ones.
Reserves of moderate size are also found in Betul district.
Rajasthan
2nd in production [28%]
Found along the Aravali range.
Ajmer, Alwar, Bhilwara, Chittaurgarh, Dungarpur, Jaipur, Jhunjhunu, Pali, Sikar, Sirohi and Udaipur districts.
Khetri-Singhana belt in Jhunjhunu district is the most important copper producing area.
Jharkhand
3rd in production [11 %].
Singhbhum is the most important copper producing district.
Found in Hazaribagh district, Santhal Parganas and Palamu districts.
Major Copper Reserves Across the World
Nickel
Nickel does not occur free in nature.
It is found in association with copper, uranium and other metals.
Important alloying material.
Iron + Nickel == stainless steel.
It is hard and has great tensile strength.
Hence nickel steel is used for manufacturing armoured plates, bullet jackets
Nickel + Copper or Silver == Coins.
Nickel-aluminium alloys are used for manufacturing aeroplanes and internal combustion engines.
Metallic nickel is used for making storage batteries and as a catalyst for hydrogenation or hardening of fats and oils intended for use in soap and foodstuffs and in making vanaspati.
Important occurrences of nickeliferous limonite are found in the Sukinda valley of Jajapur district, Odisha. Here it occurs as oxide.
Nickel also occurs in sulphide form along with copper mineralization in east Sighbhum district, Jharkhand.
In addition, it is found associated with uranium deposits at Jaduguda, Jharkhand.
Other important occurrences of nickel are in Karnataka, Kerala and Rajasthan.
Polymetallic sea nodules are another source of nickel.
About 92 per cent resources are in Odisha.
The remaining 8 per cent resources are distributed in Jharkhand, Nagaland and Karnataka.
Primary References: NCERT Geography, Indian Geography by Kullar [Amazon and Flipkart], Wikipedia
Refer to the latest edition of Physical Geography Hardcopy/PDF and Current Affairs for the most updated information on this topic.
Rs. 369
Rs. 499
in stock
4 new from Rs. 369
as of November 30, 2023 8:42 AM
Last updated on November 30, 2023 8:42 AM