Manganese Ore Distribution across India & World
Manganese
Manganese is not found as a free element in nature.
It is often found in combination with iron.
The most important manganese ore is pyrolusite.
Manganese is primarily used in iron and steel industry.
It is the basic raw material for manufacturing steel alloys.
6 kilograms of manganese ore is required for manufacturing one tonne of steel.
It is also used in the manufacturing of bleaching powder, insecticides, paints, and batteries.
Manganese Ore Distribution in India
India processes second largest reserves in the world after Zimbabwe; 430 million tonnes
India is the world's fifth largest producer after China, Gabon, South Africa and Australia.
Maharashtra, Madhya Pradesh, Odisha, Andhra Pradesh and Karnataka are the major manganese ore producing states.
Maharashtra and Madhya Pradesh together produce more than half of India's manganese
State wise reserves of Manganese
Odisha (44%),
Karnataka (22%),
Madhya Pradesh (13%),
Maharashtra (8%),
Andhra Pradesh (4%)
Jharkhand and Goa (3% each),
Rajasthan, Gujarat and West Bengal (remaining 3 per cent).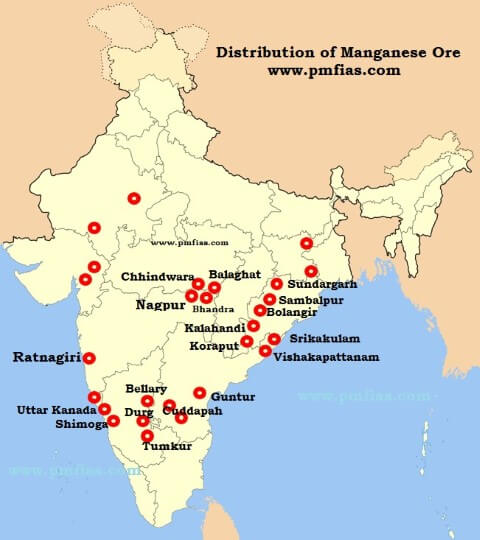 Maharashtra
Produces about 27.66 per cent of Indian manganese.
The main belt is in Nagpur and Bhandara districts.
High grade ore is found in Ratnagiri district also.
Madhya Pradesh
Produces about 27.59 per cent of India's manganese ore.
The main belt extends in Balaghat and Chhindwara districts.
It is just an extension of the Nagpur Bhandara belt of Maharashtra.
Odisha
24 per cent production. [1st in reserves but 3rd in prduction]
Gondite [regional names] deposits occur in Sundargarh district and Kodurite and Khondolite deposits in Kalahandi and Koraput Districts.
Manganese is also mined from the lateritic deposits in Bolangir and Sambalpur districts
Andhra Pradesh
13% of India's manganese production.
Srikakulam and Vishakhapatnam districts.
Srikakulam district has the distinction of being the earliest producer (1892) of manganese ore in India.
Cuddapah, Vijayanagaram and Guntur are other manganese producing districts.
Karnataka
6 per cent of India's manganese.
Uttara Kannada, Shimoga, Bellary, Chitradurg and Tumkur districts.
Other producers
Goa,
Panchmahals and Vadodara in Gujarat,
Udaipur and Banswara in Rajasthan and
Singhbhum and Dhanbad districts in Jharkhand are other producers of manganese.
Export of Manganese
Four-fifths of the total production is consumed domestically.
Exports constantly decreasing due to increasing domestic demand.
Japan is the largest buyer of Indian manganese.
The other buyers are the USA, UK, Germany, France, Norway.
World Manganese Ore Distribution
Primary References: NCERT Geography, Indian Geography by Kullar [Amazon and Flipkart], Wikipedia
Refer to the latest edition of Physical Geography Hardcopy/PDF and Current Affairs for the most updated information on this topic.
Rs. 389
Rs. 499
in stock
7 new from Rs. 389
1 used from Rs. 599
as of September 27, 2023 3:39 PM
Last updated on September 27, 2023 3:39 PM