Ramsar Convention on Wetlands
It is an international treaty for "the conservation and sustainable use of wetlands".
It is also known as the Convention on Wetlands.
It is named after the city of Ramsar in Iran.
The Convention was signed on 2nd of February 1971.
The 2nd of February each year is World Wetlands Day.
Number of parties to the convention (COP) is 171.
At the centre of the Ramsar philosophy is the "wise use" of wetlands.
Wise use: maintenance of ecological character within the context of sustainable development.
Need for Such Convention
Wetlands are indispensable for the countless benefits or "ecosystem services" that they provide ranging from freshwater supply, food and building materials, and biodiversity, flood control, groundwater recharge, and climate change mitigation.
64% of the world's wetlands have disappeared in the last century.
What is wetland
The Convention uses a broad definition of wetlands.
It includes all lakes and rivers, underground aquifers, swamps and marshes, wet grasslands, peatland, oases, estuaries, deltas and tidal flats, mangroves and other coastal areas, coral reefs, and all human-made sites such as fishponds, rice paddies, reservoirs and salt pans.
COP
COP is the policy-making organ of the Convention which adopts decisions (Resolutions and Recommendations) to administer the work of the Convention.
Every three years, representatives of the Contracting Parties meet as the Conference of the Contracting Parties (COP)
COP13 took place in Dubai, United Arab Emirates, in 2018.
Under the Convention, the Contracting Parties commit to:
Work towards the wise use of all their wetlands;
Designate suitable wetlands for the List of Wetlands of International Importance (the "Ramsar List") and ensure their effective management;
Cooperate internationally on trans boundary wetlands, shared wetland systems and shared species.
Ramsar Site
At the time of joining the Convention, each Contracting Party undertakes to designate at least one wetland site for inclusion in the List of Wetlands of International Importance.
The inclusion of a "Ramsar Site" in the List embodies the government's commitment to take the steps necessary to ensure that its ecological character is maintained.
There are over 2,300 Ramsar Sites on the territories of 171 Ramsar Contracting Parties across the world.
The countries with the most Sites are the United Kingdom with 175 and Mexico with 142.
Bolivia has the largest area under Ramsar protection.
Transboundary Ramsar Sites
Contracting Parties are designating their new and existing Ramsar Sites as Transboundary Ramsar Sites.
These are ecologically coherent, shared wetlands extending across national borders, which are managed collaboratively.
Global Distribution of Ramsar Sites (Source)
The Montreux Record
The Montreux Record is a

register of wetland sites

on the List of Wetlands of International Importance where

changes in ecological character

have occurred, are occurring, or are likely to occur as a result of technological developments, pollution or other human interference.
It is maintained as part of the Ramsar List.
Q. If a wetland of international importance is brought under the 'Montreux Record', what does it imply?
Changes in ecological character have occurred, are occurring or are likely to occur in the wetland as a result of human interference.
The country in which the wetland is located should enact a law to prohibit any human activity within five kilometres from the edge of the wetland
The survival of the wetland depends on the cultural practices and traditions of certain communities living in its vicinity, and therefore the cultural diversity therein should not be destroyed
It is given the status of 'World Heritage Site'
Answer: a)
International Organization Partners
The Ramsar Convention works closely with six organisations known as International Organization Partners (IOPs). These are:
International Water Management Institute (IWMI)
Wetlands International
WWF
International Wildfowl & Wetlands Trust (WWT)
Other Partners
Convention on Biological Diversity (CBD)
Convention to Combat Desertification (UNCCD),
Convention on the Conservation of Migratory Species of Wild Animals
Convention on Migratory Species (CMS),
World Heritage Convention (WHC) and
Convention on International Trade in Endangered Species (CITES).
Project funding is done by various groups like multilateral development banks, bilateral donors, UN agencies such as UNEP, UNDP, Non-governmental organisations etc.
Criteria for Identification of Wetlands under Ramsar Convention
If a wetland
contains a representative, rare, or unique example of a natural or near-natural wetland type.
supports vulnerable, endangered, or critically endangered species; or threatened ecological communities.
supports populations of plant and/or animal species important for maintaining the biological diversity of a particular biogeographic region.
supports plant and/or animal species at a critical stage in their life cycles or provides refuge during adverse conditions.
regularly supports 20,000 or more water birds.
regularly supports 1% of the individuals in a population of one species or subspecies of water birds.
supports a significant proportion of indigenous fish subspecies.
is an important source of food for fishes, spawning ground, nursery and/or migration path.
is an important source of food and water resource, increased possibilities for recreation and eco-tourism, etc.
Ramsar Sites of India
As of July 2021, there are

42 Ramsar Sites in India

.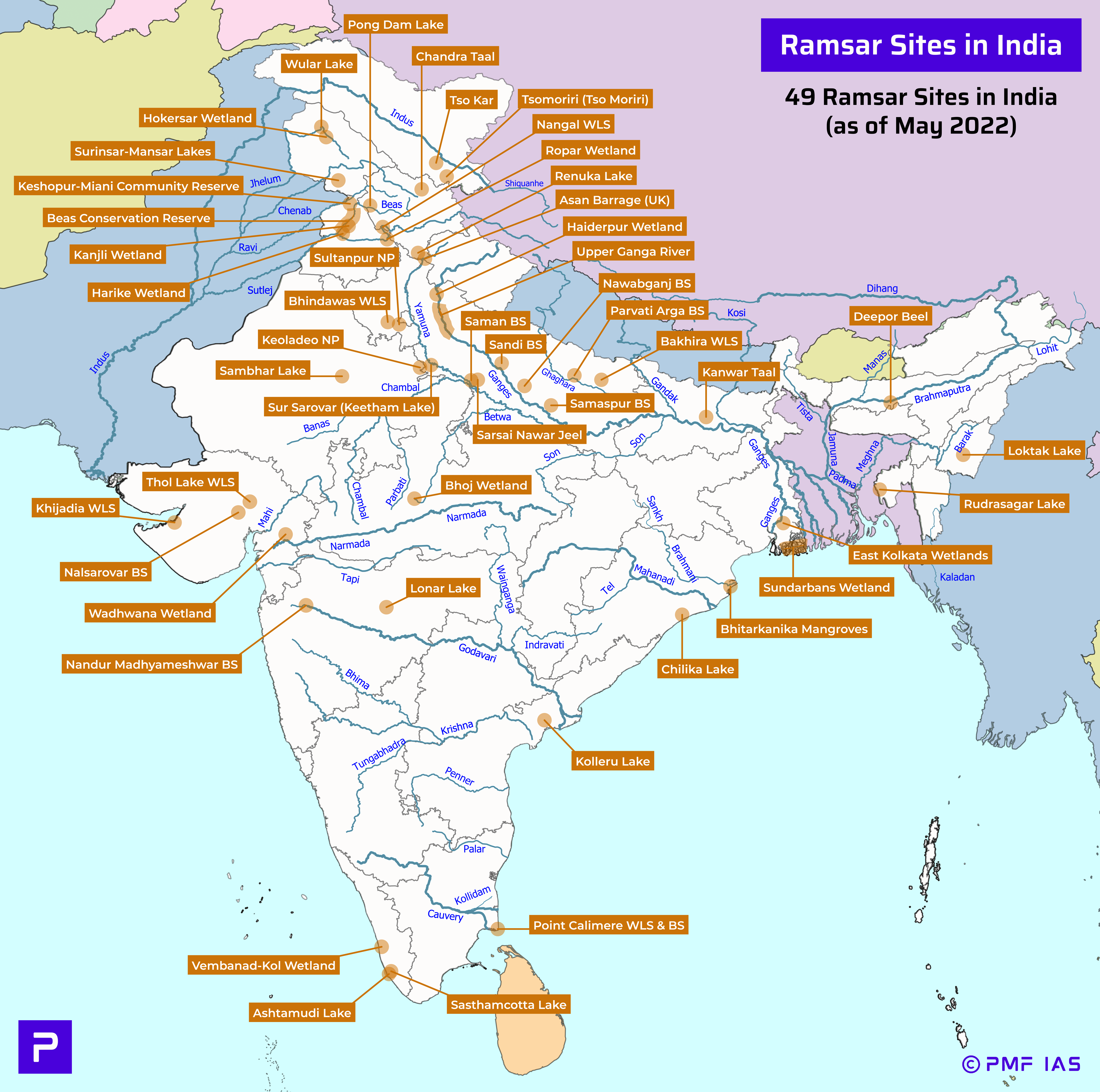 State/UT

No. of Ramsar Sites

State/UT

No. of Ramsar Sites

Uttar Pradesh

8

Andhra Pradesh
1

Punjab

6

Bihar
1

Himachal Pradesh

3

Assam
1

Kerala

3

Bihar
1

Union Territory of J&K

3

Gujarat
1
Odisha
2
Madhya Pradesh
1
Rajasthan
2
Manipur
1
West Bengal
2
Tamil Nadu
1
Maharashtra
2
Tripura
1
Union Territory of Ladakh
2
Uttarakhand
1
42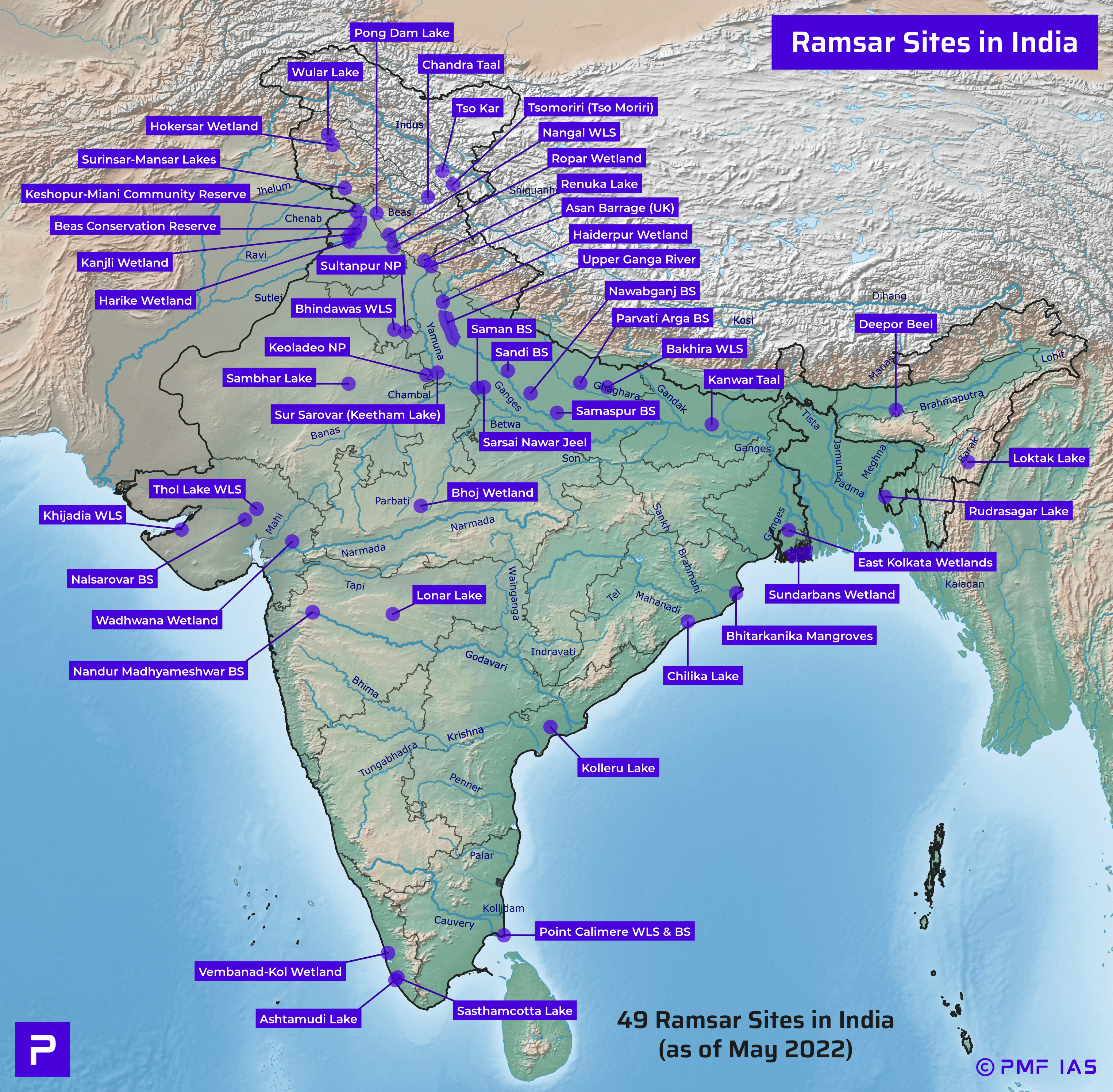 State

Area (km2)

Description

1
Ashtamudi Wetland
Kerala
614

It is a natural backwater in the Kollam district.
River Kallada and Pallichal drain into it.
It forms an estuary with Sea at Neendakara (a famous fishing harbour in Kerala).
National Waterway 3 passes through it.

2
Beas Conservation Reserve
Punjab
64

It is a 185-kilometre stretch of the Beas River.
The stretch is dotted with islands, sand bars and braided channels.
The Reserve hosts the only known population in India of the endangered Indus River dolphin (EN).
In 2017, a programme was initiated to re-introduce the

critically endangered gharial

.

3
Bhitarkanika Mangroves
Odisha
650

It is part of the Bhitarkanika Wildlife Sanctuary.
The core area of the sanctuary was declared Bhitarkanika National Park.

Gahirmatha Marine Wildlife

Sanctuary is adjacent to the Bhitarkanika Wildlife Sanctuary.
It is famous for:

Olive ridley turtle

 

(

VU

) 

Saltwater crocodile (

LC

)

The core area of Bhitarkanika Wildlife Sanctuary was declared Bhitarkanika National Park.
Bhitarkanika Wildlife Sanctuary includes Gahirmatha Marine Wildlife Sanctuary.

4
Bhoj Wetland
Madhya Pradesh
32

The Wetland consists of two lakes located in the city of Bhopal.
The two lakes are the Bhojtal and the Lower Lake.
It is a human-made reservoir.
The largest bird of India, the Sarus crane (VU) is found here.

5
Chandra Taal
Himachal Pradesh
.49
6
Chilika Lake
Odisha
1165

It is a brackish water lagoon at the mouth of the Daya River.
It is the largest coastal lagoon in India.
Birds from as far as the Caspian Sea, Lake Baikal, Aral Sea and other remote parts of Central Asia, Ladakh and Himalayas come here.
In 1981, Chilika Lake was designated the

first Indi

an wetland of international importance under the Ramsar Convention

.

Nalbana

Bird Sanctuary

is the core area of the Ramsar designated wetlands of Chilika Lake.
The

Irrawaddy dolphin (

EN

)

is the flagship species of Chilika lake.
Chilka is home to the only known population of Irrawaddy dolphins in India.

7
Deepor Beel
Assam
40

A permanent freshwater lake in a former channel of the Brahmaputra River.
It is a few kilometres to the left of Guwahati whereas Pobitora Wildlife Sanctuary is around 35 km to the right.

8
East Kolkata Wetlands
West Bengal
125

It is a multiple-use wetland that serves the city of Kolkata.

9
Harike Wetland
Punjab
41

It is a shallow water reservoir at the confluence of the Beas and Sutlej rivers.

10
Hokera Wetland
Union Territory of J&K
13.75

It is only 10 km from Srinagar.
It is a natural perennial wetland contiguous to the Jhelum basin.

11
Kanjli Wetland
Punjab
1.83

The stream is considered to be the most significant in the state from the religious point of view, as it is associated with the first guru of the Sikhs, Shri Guru Nanak.

12
Keoladeo National Park
Rajasthan
28.73

A complex of ten artificial, seasonal lagoons, varying in size.
Vegetation is a mosaic of scrub and open grassland that provides a habitat for breeding, wintering and staging migratory birds.
The invasive growth of the grass Paspalum distichum has changed the ecological character of large areas of the site, reducing its suitability for certain waterbird species, notably the

Siberian crane (

CR

)

.

13
Keshopur-Miani Community Reserve
Punjab
34

The Site is an example of wise use of a community-managed wetland, which provides food for people and supports local biodiversity.

14
Kolleru Lake
Andhra Pradesh
901

A natural

eutrophic lake

situated between the river basins of the Godavari and the Krishna.
It was previously a lagoon, but now it is several kilometres inland due to the coastline of emergence and delta formation.

15
Loktak Lake
Manipur
266

Loktak Lake is the largest freshwater lake in the north-eastern region of the country.

Keibul

Lamjao

the only floating national park in the world floats over it.

16
Nalsarovar Bird Sanctuary
Gujarat
123

A natural freshwater lake (a relict sea) that is the largest natural wetland in Gujarat.
The wetland is a lifeline for a satellite population of the endangered

Indian Wild Ass (

NT

)

.

17
Nandur Madhameshwar
Maharashtra
14

Construction of the Nandur Madhameshwar Weir at the confluence of the Godavari and Kadwa Rivers helped create a thriving wetland.

18
Nangal Wildlife Sanctuary
Punjab
1

Located in the Shiwalik foothills of Punjab.
It supports abundant flora and fauna including threatened species, such as the endangered Indian pangolin and Egyptian vulture.
It occupies a human-made reservoir constructed as part of the

Bhakra-Nangal

Project in 1961.
The site is of historic importance as the Indian and Chinese Prime Ministers formalized the "Five Principles of Peaceful Coexistence" there in 1954.

19
Nawabganj Bird Sanctuary
Uttar Pradesh
2

It was renamed Chandra Shekhar Azad Bird Sanctuary in 2015.

20
Parvati Arga Bird Sanctuary
Uttar Pradesh
7

It is a permanent freshwater environment consisting of two

oxbow lakes

.
The Sanctuary is a refuge for some of India's threatened vulture species: the critically endangered white-rumped vulture and Indian vulture.

21
Point Calimere Wildlife and Bird Sanctuary
Tamil Nadu
385

One of the last remnants of Dry Evergreen Forests.
Habitat: Dry Evergreen Forests, Mangrove & Wetlands.

22
Pong Dam Lake
Himachal Pradesh
156.62

It is also known as Maharana Pratap Sagar.

23
Renuka Lake
Himachal Pradesh
.2

A natural wetland with freshwater springs and inland subterranean karst formations.

24
Ropar Wetland
Punjab
13.65

A human-made wetland of lake and river formed by the construction of a barrage for diversion of water from the Sutlej River.

25
Rudrasagar Lake
Tripura
2.4

It is a reservoir fed by three perennial streams discharging to the River Gomti.
It is an ideal habitat for IUCN Red listed

Three-striped Roof Turtle (

CR

)

.

26
Saman Bird Sanctuary
Uttar Pradesh
5

It is a seasonal oxbow lake on the Ganges floodplain.

27
Samaspur Bird Sanctuary
Uttar Pradesh
8

It is a perennial lowland marsh typical of the Indo-Gangetic Plains.
The Sanctuary harbours threatened species such as the endangered Egyptian vulture.

28
Sambhar Lake
Rajasthan
240

The Sambhar Salt Lake is

India's largest inland saltwater lake

.
It is a key wintering area for tens of thousands of flamingos.

29
Sandi Bird Sanctuary
Uttar Pradesh
3

The wetland is typical of the Indo-Gangetic plains.

30
Sarsai Nawar Jheel
Uttar Pradesh
2

It is a permanent marsh.
It is an example of the cohabitation of humans and wildlife.
The site's name is derived from the large non-migratory Sarus crane (VU).

31
Sasthamkotta Lake
Kerala
3.73

It is the largest freshwater lake in Kerala, situated in Kollam district.
River Kallada had a unique replenishing system through a bar of paddy field.
The lake is now depleting due to the destruction of the replenishing mechanism.

32
Sundarban Wetland
West Bengal
4230

Sundarban Wetland is located within the largest mangrove forest in the world.
It is the

largest Ramsar Site in India

.
The Indian Sundarban, covering the south-westernmost part of the delta, constitutes over 60% of the country's total mangrove forest area and includes 90% of Indian mangrove species.

33
Surinsar-Mansar Lakes
Union Territory of J&K
3.5

Freshwater composite lake in semi-arid Panjab Plains, adjoining the Jhelum Basin.

34
Tsomoriri
Union Territory of Ladakh
120

A freshwater to brackish lake lying at 4,595m above sea level.
The site is said to represent the only breeding ground outside of China for one of the most endangered cranes, the Black-necked Cranes (NT) and the only breeding ground for Bar-headed geese in India.
The Great Tibetan Sheep or Argali and Tibetan Wild Ass are endemic to the region.
With no outflow, evaporation in the arid steppe conditions causes varying levels of salinity.

35
Upper Ganga River (Brijghat to Narora Stretch)
Uttar Pradesh
265.9
36
Vembanad-Kol Wetland
Kerala
1512.5

The largest lake of Kerala, spanning across Alappuzha, Kottayam, and Ernakulam districts.
It is the

second-largest Ramsar Site in India after Sundarbans

.

It is also the Longest lake in India

.
It is below sea level and is famous for exotic fish varieties and Paddy fields that are below sea level.

37
Wular Lake
Union Territory of J&K
189

It is the

largest freshwater lake in India

.

38

Asan Barrage

Uttarakhand
4.44

39

Kanwar Taal or Kabar Taal Lake

Bihar, Begusarai
26.2

It lies in the Indo-Gangetic Plain.
The wetland is an important stopover for the Central Asian Flyway migratory waterbirds.
Five critically endangered species inhabit the site, including three vultures – the red-headed vulture, white-rumped vulture and Indian vulture – and two waterbirds, the

Baer's pochard (CR)

and

sociable lapwing (CR)

.

40

Sur Sarovar

Uttar Pradesh, Agra district
4.31

It was created to supply water to the city of Agra.
The wetland is an important stopover for the Central Asian Flyway migratory waterbirds.

41

Lonar Lake

Maharashtra, Buldhana district
4.27

It is an

endorheic (closed basin) crater lake

formed by a meteorite impact.
It is high in salinity and alkalinity due to the lack of an outflow.
Recently, the colour of Lonar lake water had turned pink due to a large presence of the salt-loving "

haloarchaea

" microbes.
Haloarchaea or halophilic archaea is a bacteria culture that produces pink pigment and is found in water saturated with salt.

42

Tso Kar

Ladakh, Leh district
95.77

Tso Kar wetland is India's 42nd Ramsar site & the second in the UT of Ladakh.
The Tso Kar Basin is a high-altitude wetland complex, consisting of two principal waterbodies:

Startsapuk

Tso, a freshwater lake

to the south, &
Tso Kar itself, a

hypersaline lake

to the north.
It is called Tso Kar, meaning white lake, because of the white salt efflorescence found on the margins due to the evaporation of highly saline water.
Tso Kar Basin is an Important Bird Area according to BirdLife International.
It is a key staging site in the Central Asian Flyway.
Also, the site is the most important breeding areas of the Black-necked Cranes (NT) in India.
Largest and Smallest and Oldest Ramsar Sites of India
Largest Ramsar Sites of India

Ramsar Site

State

Area in Sq. km

1) Sunderbans Wetland

West Bengal

4230

2) Vembanad Kol Wetland

Kerala

1512

3) Chilka Lake

Orissa

1165

4) Kolleru Lake
Andhra Pradesh
901
5) Bhitarkanika Mangroves
Orissa
650
6) Asthamudi Wetland
Kerala
614

Smallest Ramsar Site of India

Renuka Wetland

Himachal Pradesh

0.2

Oldest Ramsar Sites of India

1) Chilka Lake

Orissa

1981

2) Keoladeo Ghana NP

Rajasthan

1981