'Critically Endangered' Fish
The Pondicherry Shark (Carcharhinus hemiodon)
Distribution: Indian Ocean – from Gulf of Oman to Pakistan, India and Sri Lanka.
In scattered localities spanning India to New Guinea. Also been recorded at the mouth of the Hooghly river.
Threats: Large, expanding, and unregulated commercial fisheries in inshore localities and habitats.
The Ganges Shark (Glyphis gangeticus)
It occurs in the turbid waters of the Ganga river and the Bay of Bengal.
The small eyes suggest that it is adapted to living in turbid water, while the slender teeth of the species suggests that it is primarily a fish-eater.
Distribution: It occurs in India and possibly in Pakistan. The Ganga river system and Hooghly river mouth are its known habitats.
Threats: Major fisheries targeting sharks. Other probable threats include overfishing, pollution, increasing river use and construction of dams and barrages. A few jaws of the species were found to have been traded in the international market during recent years, which testifies that the species is not extinct.
Large-tooth Sawfish (Pristis microdon)
Distribution: Western part of the Indo-Pacific (East Africa to New Guinea, Philippines and Vietnam to Australia).
In India, it is known to enter the Mahanadi river, up to 64 km inland, and also is very common in the estuaries of the Ganga and Brahmaputra.
Threats: The principal threat to all sawfish are fisheries. Their long tooth-studded saw, makes them extraordinarily vulnerable to entanglement in any sort of net gear.
When sawfish are caught in by catch, they often end up being traded because of the very high value of their products (meat is high quality and fins and saws extremely valuable in international trade).
Major habitat changes include construction of dams over rivers, siltation, pollution from industries and mining operations.
Long-comb Sawfish or Narrow-snout Sawfish (Pristis zijsron)
This species was reported as frequently found in shallow water. It inhabits muddy bottoms and also enters estuaries.
Distribution: Indo-Pacific region including Australia, Cambodia, China, India, Indonesia and Malaysia.
Threats: This species has been damaged intensively, both as a target species and as incidental by catch in commercial, sport or shark-control net fisheries, as well as for aquarium display. As a result, it has become severely depleted in recent decades, and now appears to have been extirpated from many parts of its range.
'Endangered' Fishes
Knife-tooth Sawfish (Anoxypristis cuspidata)
Distribution: Widespread in western part of the Indo-Pacific region, including Red Sea.
Threats: The principal threat to all sawfish are fisheries. Their long tooth-studded saw, makes them extraordinarily vulnerable to entanglement in any sort of net gear.
When sawfish are caught in by catch, they often end up being traded because of the very high value of their products (meat is high quality and fins and saws extremely valuable in international trade).
'Critically Endangered' Spiders
Rameshwaram Ornamental or Rameshwaram Parachute Spider (Poecilotheria hanumavilasumica)
It was recently described in 2004, and is only found in India.
The species is semi-social, which means they live partly in groups.
Habitat: Arboreal and tend to live in hiding.
Distribution: Endemic to India. Spread along the coastal savannah, tropical lowland rain forests and montane forests up to an altitude of 2000 m above mean sea level.
Threats: Major threats causing the disappearance of this species is habitat alteration and degradation.
Gooty Tarantula, Metallic Tarantula or Peacock Tarantula (Poecilotheria metallica)
It was first found in Gooty (Ooty/Udagamandalam).
Habitat: Wooded mountain area.
Distribution: Endemic to South India.
Threats: They are one of the most expensive spiders in the illegal pet trade. Large areas where the species occurs have been deforested, or subjected to habitat degradation due to local fuel wood collection, leading to decline in its population.
'Critically Endangered' Corals
Fire corals (Millepora boschmai)
They are more closely related to jellyfish than corals.
Distribution: Indonesia, Gulf of Chiriqui, Panama Pacific Province. Possibly extinct from Australia, India, Indonesia, Malaysia, Panama, Singapore and Thailand.
Threats: Collected for decoration and jewellery trade. This group is also sensitive to temperature rise, and is thought to have completely disappeared from the majority of marine areas possibly because of growing global warming related bleaching effects.
In News
Flying squirrel
Flying squirrels are mammals too, but they don't really fly.
They jump from high in a trees glide through the air like a kite.
Flying squirrels are a tribe of 44 species of squirrels.
Their conservation status varies from Near Threatened to Endangered.
Indian giant flying squirrel is included under 'Least Concerned'.
Consider the following:
Black-necked crane
Cheetah
Flying squirrel
Snow leopard
Which of the above are naturally found in India ?
1, 2 and 3 only
1, 3 and 4 only
2 and 4 only
1, 2, 3 and 4
Black-necked crane is commonly found in Tibetan and trans-Himalayan region. In winters they migrate to less colder regions of Indian Himalayas.
Cheetah is an extinct species. They have gone extinct during pre-independence era. Reason: They were hunted down by various Indian kings and British officers.
Flying Squirrels are found in many Indian forests.
Snow leopard is an 'endangered' specie found in the Himalayan ranges.
Answer: b) 1, 3 and 4 only
Guadalupe Fur Seal
Distribution: west coast of California and off the Guadalupe islands of Mexico
Moved from the "near threatened" to the "least concern" category in 2015.
Iberian Lynx
Moved from the "critically endangered" to the "endangered" category.
Found in Iberian Peninsula [Western Europe].
Lion
Placed in Vulnerable category.
Threats: Trade in bones is the major reason for their dwindling numbers.
Tiger and Bengal Tiger
Placed in Endangered category.
2015: International Union for Conversation of Nature (IUCN), said that tiger numbers have grown to 3,890—a marked increase from estimates in 2010 that put the number at "as few as 3,200."
The general observation is that the population of tigers in India has increased while that of the rest of the world has decreased.
Black-Necked Crane (Grus nigricollis)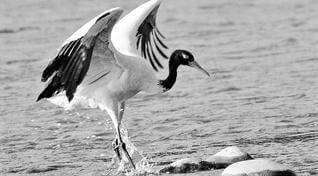 Black-necked crane
Status: Vulnerable.
The threat to the future of a vulnerable bird species has halted the Rs. 6,400-crore hydro power project in Tawang, Arunachal Pradesh.
The species breeds on the Tibetan plateau and migrates to Tawang for the winter.
The bird, most commonly found in China, is legally protected in Bhutan and India and is considered sacred to certain Buddhist traditions.
Which one of the following groups of animals belongs to the category of endangered species?
Great Indian Bustard, Musk Deer, Red Panda and Asiatic Wild Ass
Kashmir Stag, Cheetal, Blue Bull and Great Indian Bustard
Snow Leopard, Swamp Deer, Rhesus Monkey and Saras (Crane)
Lion-tailed Macaque, Blue Bull, Hanuman Langur and Cheetal
As of 2016, the status of many of these animals has changed. Outdated question.
Migratory Birds
Migration refers to the cyclical seasonal movement of birds from one place to other. The distance of migration ranged from short distance to thousands of kilometers. But at the end of period, birds will eventually return to the original place.
Reasons for migration
To avoid adverse factors (extreme climatic condition)
To manage food shortage
To manage shortage of water
To have a better breeding conditions
Less competition for safe nesting places
Migratory birds of India
| | |
| --- | --- |
| Winter birds | Summer birds |
| Siberian Cranes, Greater Flamingo, Common Teal, Yellow Wagtail, White Wagtail, Northern Shoveler, Rosy Pelican, Wood Sandpiper, Spotted Sandpiper, Eurasian Pigeon, Black Tailed Godwit, Spotted Redshank Starling Bluethroat, Long Billed Pipit. | Asian Koel, Black Crowned Night Heron, Eurasian Golden Oriole, Comb Duck, Blue Cheeked Bee Eater, Blue Tailed Bee-Eater, Cuckoos. |
Steps Taken by the Government for Wildlife Protection
All the states, excluding Jammu and Kashmir (it has its own Act), adopted Wildlife (Protection) Act in 1972 which prohibits any type of trade for endangered and rare species.
The Central Government provides every type of financial assistance to the State Governments for the conservation and protection of the endangered species.
National ban was imposed on tiger hunting in 1970 and Wildlife Protection Act became effective in 1972.
Innumerable numbers of National Parks, Wildlife Sanctuaries, Parks etc. have been established by the government.
In 1992, Central Zoo Authority (CZA) was initiated for the supervision of the management of zoological parks in the country.
In 1996, the Wildlife Advisory Committee and Wildlife Institute were established for seeking advice on different features of Wildlife conservation and matters related to it.
India is part of five main International Conventions which are associated to wildlife conservation. They are
Convention on International Trade in Endangered Species (CITES),
Coalition Against Wildlife Trafficking (CAWT),
International Whaling Commission (IWC),
United Nations Educational, Scientific and Cultural Organization – World Heritage Committee (UNESCO – WHC) and
Convention on Migratory Species (CHS).
Misc
Egg Laying Mammals
The unique feature of monotremes, a sub division of mammal, is that monotremes lay eggs rather than giving birth to their young.
There are only five living Monotreme/egg laying Mammals species: they are – the duck-billed platypus and four species of spiny anteaters (also known as echidna).
All of them are found only in Australia and New Guinea.
In echidnas, the egg is carried in a pouch on the female's belly until the young hatches, at which point the barely-developed young must find a mammary gland and latch onto it for nourishment.
Marsupials
Marsupials are the group of mammals commonly thought of as pouched mammals (like the wallaby and kangaroo).
Marsupial mammals have placenta but it is very short-lived and does not make as much of a contribution to fetal nourishment.
They give birth very early and the young animal, essentially a helpless embryo, climbs from the mother's birth canal to the nipples.
There it grabs on with its mouth and continues to develop, often for weeks or months depending on the species.
List of Marsupials
Kola
Kangaroo
Wallaby
Wombats
Opossum
Tasmanian devils
Mursupial Mole (4 foot)
Bandi coot
Tasmanian Wolf /Tiger