Tiger Census Report 2018, MSTrIPES, India's Tiger Landscapes
Subscribe to never miss an important update!
Refer to the latest edition of Environment Hardcopy/PDF and Current Affairs for the most updated information on this topic.
Rs. 499
Rs. 599
in stock
6 new from Rs. 499
as of December 5, 2023 7:21 AM
Last updated on December 5, 2023 7:21 AM
Tiger Census
Since the early 1900s, the global population of tigers fell from around 100,000 to fewer than 4,000.
Indian tiger numbers had hit an all-time low of 1,411 in 2006.
2006 census concluded that all the tigers from the Sariska reserve in Rajasthan had disappeared.
Serious conservation efforts after 2006 reduced poaching and led to steady increase in tiger population.
Global Tiger Recovery Program aims of doubling the global tiger population by 2022.
Tiger Census Report
Wildlife Institute of India (WII)
Established in 1982 in Dehradun.
Autonomous institution under the MoEFCC.
Offers training program, academic courses and advisory in wildlife research and management.
Census methodology
Double sampling based on ground-based surveys and actual images captured on camera-traps.
Double sampling method was introduced in 2006 after the "pugmark" surveys were found to be inaccurate.
In 2018 census, 83% of the big cats censused were individually photographed using camera traps.
In Phases 1 & 2, ground-based surveys were carried out by Forest Department officials to collect signs of tiger presence like scat and pugmarks.
In phase 3, the information was plotted on the forest map prepared with remote-sensing and GIS (MSTrIPES).
In the last phase, data were extrapolated to areas where cameras could not be deployed.
MSTrIPES – Technology in wildlife protection
MSTrIPES: Monitoring system for Tigers – Intensive Protection and Ecological Status.
It was launched across Indian tiger reserves by NTCA and WII in 2010.
MSTrIPES is a software-based monitoring system, designed to assist wildlife protection.
The system consists of two components:

field based protocols for patrolling, law enforcement, recording wildlife crimes and ecological monitoring,
a customized GIS software for storage, retrieval, analysis and reporting.

Under MSTrIPES, forest guards are expected to record their tracks using a GPS, in addition to recording observations in site-specific data sheets.
For 2018 census ground staff involved in the count used the

MSTrIPES

app.
The app records the staff's path and helps upload geo-tagged pictures into the central GIS database.
Advantage of MSTrIPES
GPS-based patrolling helps in mapping patrol routes and maintaining a spatial database of patrol tracks.
Patrol maps help the management analyse trends and patterns to improve future protection efforts.
MSTrIPES will help identify shortcomings in patrolling efforts in real time.
It acts as a proof of presence and patrolling of forest guards in a particular area.
2018 Tiger Census Report
2018 census is the fourth cycle of the tiger census based on double sampling.
The first was conducted in 2006, second in 2010 and third in 2014.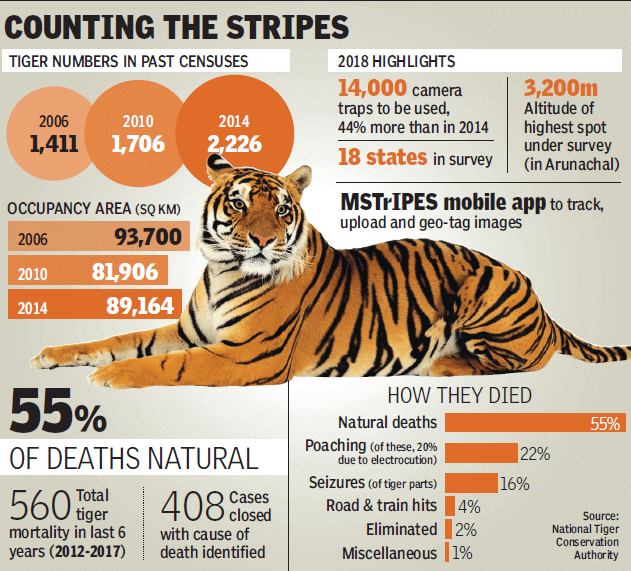 India's five tiger landscapes are: Shivalik Hills and Gangetic Plains, Central Indian Landscape and Eastern Ghats, Western Ghats, North-East Hills and Brahmaputra Plains, and the Sundarbans.
Tiger population growth in India

State

2006

2010

2014

2018

Shivalik Gangetic Plain

Uttarakhand

178

227

340

442

Uttar Pradesh

109

118

117

173

Bihar

10

8

28

31

Central Indian Landscape and Eastern Ghats

Andhra Pradesh & Telangana

95

72

68

48 & 26

Chhattisgarh

26

26

46

19

Madhya Pradesh

300

257

308

526

Maharashtra

103

169

190

312

Odisha

45

32

28

28

Rajasthan

32

36

45

69

Jharkhand

–

10

3

5

Western Ghats

Karnataka

290

300

406

524

Kerala

46

71

136

190

Tamil Nadu

76

163

229

264

Goa

–

–

5

3

The Northeast

Assam

70

143

167

190

Arunachal Pradesh

14

–

28

29

Mizoram

6

5

3

0

Northern West Bengal

10

–

3

0

Sundarbans

–

70

76

88

Total

1,411

1,706

2,226

2967
Important Observations from 2018 tiger census
Madhya Pradesh (526)

has the highest tiger population.

Karnataka (524)

has the second highest tiger population.
Uttarakhand (442) has the third highest tiger population.
Among the NE states, Assam (190) has the highest tiger population.
Tiger population fell in

Chhattisgarh

and

Mizoram

.
There is no change in tiger population in Odisha.
| | |
| --- | --- |
| Region | Tiger Population (2014 Census) |
| 1. Western Ghats | 776 |
| 2. Central Indian Landscape and Eastern Ghats | 688 |
| 3. Shivalik Gangetic Plain | 485 |
| India | 2226 |
| Region | Tiger Population (2018 Census) |
| 1. Central Indian Landscape and Eastern Ghats | 1033 |
| 2. Western Ghats | 981 |
| 3. Shivalik Gangetic Plain | 646 |
| India | 2967 |
Other Important observations from All India Tiger Estimation Report 2018
India is home to almost 70 % of the world tiger population.
The country has

2,967 tigers

, a rise of 33% over the figure found in the previous census of 2014 (2,226).
This is by far the biggest increase in terms of both numbers and percentage since the capture-mark-recapture method began in 2006.
The number that year was 1,411; it rose by 295 (21%) to 1,706 in 2010; and by 520 (30%) to 2,226 in 2014.
The biggest increase has been in Madhya Pradesh — a massive 218 individuals (71%).
In Maharashtra, the number has gone up from 190 to 312 (64%).
Uttarakhand has gained over 100 tigers (340 to 442; 30%).

Chhattisgarh

and

Mizoram

saw a decline in tiger population.
Jim Corbett has 231 tigers followed by Nagarhole and Bandipore reserves in Karnataka with 127 and 126 tigers respectively.
Corbett Tiger Reserve (CTR) has reported the highest tiger density among India's 50 reserves with 14 tigers per 100 sq km
Sathyamangalam Tiger Reserve in Tamil Nadu registered the "maximum improvement" since 2014.
In Buxa, Dampa and Palamau, which are tiger reserves, no trace of the animal was found.
The report does not contain numbers of other predators like leopards.
Measures that led to the increase in tiger population
Many states deployed special tiger forces to combat organized poachers.
Relocation of villages away from tiger reserves: ₹10 lakh was provided per family that moved out of critical habitat.
From 28 in 2006, the number of tiger reserves went up to 50 in 2018.
Concerns remain
The fast reducing forest cover still presents a threat to the wild cat.
Under the current green cover, habitats reach tiger-saturation points far too early.
Forests with potential of increasing tiger population
Sanjay and Guru Ghasidas forests on the border of Madhya Pradesh and Chhattisgarh,
Kawal and Srirailam forests in Andhra Pradesh and Telangana,
Simlipal and Satkosia tiger reserves in Odisha,
Manas reserve in Assam,
Buxa reserve in West Bengal,
Palamau reserve in Jharkhand and
Achanakmar and Indravati tiger reserves in Chhattisgarh.
Refer to the latest edition of Environment Hardcopy/PDF and Current Affairs for the most updated information on this topic.
Rs. 499
Rs. 599
in stock
6 new from Rs. 499
as of December 5, 2023 7:21 AM
Last updated on December 5, 2023 7:21 AM