Fisheries Sector, Steps Taken to Improve the Fisheries Sector, Blue Revolution Scheme
PIB | Prelims + Mains | GS2 > Government Policies & Interventions for Development in Various Sectors
Context: PM talked of the recently launched 20K crore Matasya Samapada Yojna & Seaweed Farming.
India is the

second-largest fish producer in the world

with a total production of 13.7 million metric tonnes in 2018-19 of which

65 per cent was from the inland sector

.
China is way ahead at a whopping 60 million tonnes per annum.
Growth in fisheries
Fisheries sector registered more than double growth in past 5 years.
The sector has grown rapidly from 4.9 per cent in 2012-13 to 11.9 per cent in 2017-18.
On the other hand, growth in sectors like crop, livestock & forestry from 2014-15 to 2017-18 has been highly fluctuating.
Fish & fish product exports emerged as the largest group in agricultural exports & in value terms accounted for Rs 47,620 crore in 2018-19.
Fisheries provide employment to more than 14.5 million people.
Steps taken to improve the fisheries sector
Foreseeing the vast resource potential & possibilities in the fisheries sector,

a separate Department of Fisheries was created in February 2019

.
The Government has merged all the schemes of fisheries Sector into an umbrella scheme of

'Blue Revolution: Integrated Development

&

Management of Fisheries

'.
Fisheries & Aquaculture Infrastructure Development Fund (FIDF) was approved with a total fund size of Rs 7522.48 crore.
Blue Revolution: Integrated Development & Management of Fisheries
Department of Animal Husbandry, Dairying & Fisheries has restructured the scheme by merging all the ongoing schemes under an umbrella of the Blue Revolution.
Under the Centrally Sponsored Scheme (CSS) of Blue Revolution, financial assistance is provided to the States/UTs to support the fishermen.
The restructured scheme covers inland fisheries, aquaculture, marine fisheries including deep sea fishing, mariculture & all activities undertaken by the National Fisheries Development Board (NFDB).
The scheme has a total Central outlay of 3000 crore for five years & has the following components:
National Fisheries Development Board (NFDB) & its activities,
Development of Inland Fisheries & Aquaculture,
Development of Marine Fisheries, Infrastructure & Post-Harvest Operations,
Strengthening of Database & Geographical Information System of the Fisheries Sector, and
Monitoring, Control & Surveillance (MCS) & other need-based Interventions.
Fisheries & Aquaculture Development Fund (FIDF)
The first tripartite MoU was signed between the department of Fisheries, GOI, NARBARD & the Government of Tamil Nadu for the implementation of Fisheries & Aquaculture Development Fund (FIDF).
FIDF is created with a total of Rs. 7522.48 crore to address the infrastructure requirement for fisheries sector.
FIDF provides concessional finance to the eligible entities, cooperatives, individuals & entrepreneurs for development of identified fisheries infrastructure.
NARBARD, National Cooperatives Development Corporation (NCDC) & all scheduled banks are Nodal Loaning entities (NLEs) to provide concessional finance under the (FIDF).
The Department of Fisheries, under the FIDF provides interest subvention up to 3% per annum for providing the concessional finance by the NLEs.
The Government of Tamil Nadu has signed the first Tripartite MoA for availing the initial concessional finance of Rs 420 crore from NARBARD for development of three fishing harbours in the State.
These will create safe landing & berthing facilities for many fishing vessels plying in the area, augment fish production in the regions, facilitate hygienic post–harvest handling of fish, etc.
NABARD as one of the Nodal Loaning Entities (NLEs) provides concessional finance for development of fisheries infrastructure facilities through State Governments/State Entities under the FIDF.
Pradhan Mantri Matsya Sampada Yojana (PMMSY)
The Government has launched the PMMSY for the development of marine & inland fisheries.
Rs 11,000 crore for activities in Marine, Inland fisheries, & Aquaculture & Rs. 9000 crores for Infrastructure – Fishing Harbours, Cold chain, Markets etc shall be provided.
There are provisions of Ban Period Support to fishermen (during the period fishing is not permitted).
The focus will be on Islands, Himalayan States, North-east & Aspirational Districts.
Kisan credit cards for Fishermen
Government has also extended the facilities of Kissan Credit Cards (KCC) to fishers & fish farmers to help them in meeting their working capital needs.
Development of Inland Fisheries
&
Aquaculture
It is Centrally Sponsored Scheme.
The components approved under the scheme are:
Development of Freshwater Aquaculture.
Development of Brackish water Aquaculture.
Cold water Fisheries & Aquaculture.
Development of Waterlogged Areas.
Productive Utilization of Inland Saline/Alkaline Soils for Aquaculture.
Integrated Development of Inland Capture Resources (reservoirs/rivers etc.)
creation of a buffer zone between the near shore & offshore regions (waters between 200 m & 500 m in depth) to regulate fishing.
National Fisheries Development Board (NFDB)
NFDB works for development of Fisheries in the country from Intensive Aquaculture in Ponds & tanks to Coastal Aquaculture.
It also focuses on: –
Human Resources development programs in fisheries sectors,
Deep sea fishing & tuna processing,
Ornamental Fisheries,
Innovative Projects Quality seed dissemination program,
Cage & pen culture in open water bodies etc.
Draft National Inland Fisheries & Aquaculture Policy (NIFAP)
For Inland Fisheries:
Conserving indigenous resources,
Restoring natural ecosystem of Rivers,
Conserving & restoring ecosystem in natural wetlands & bringing policies,
Conservation programmes for development of fisheries in the Himalayan & north-eastern states.
For Aquaculture:
Developing State & Area-specific action plans,
Redefining land use categories to include fisheries & aquaculture as components of agriculture,
Developing separate programmes for small framers,
Infuse public & private investments & take R&D benefits to the farmers & fishers.
GEMINI: Gagan Enabled Mariner's Instrument for Navigation & Information
For dissemination of information on disaster warnings, Potential Fishing Zones (PFZ) and Ocean States Forecasts (OSF) to fishermen, GOI launched GEMINI device and mobile application.
GOI has issued an advisory to all coastal States & UTs to make mandatory the use of Automatic Identification System (AIS) & Vessel Monitoring Systems (VMS) in fishing vessels for safe navigation.
The need for GEMINI
PFZ forecasts, developed by INCOIS, will provide advisories on PFZ to fishermen 3 days in advance.
Ocean State Forecasts include the forecasts on winds, waves, ocean currents, water temperature, etc.
However, PFZ & OSF advisories do not reach fishermen when they move 10-12 km away from the coast.
The communication gap puts the life & property of those involved in deep sea fishing in Indian Ocean at risk.
To overcome this difficulty, GEMINI portable device was developed.
How GEMINI works?
GEMINI device utilizes the

GAGAN

system to transmit the PFZ, OSF and disaster warnings to user's cell phone.
The GEMINI app on the cell phone decodes the signals from GEMINI device and alerts the user on imminent threats like cyclones, high waves, strong winds along with PFZ and search and rescue mission.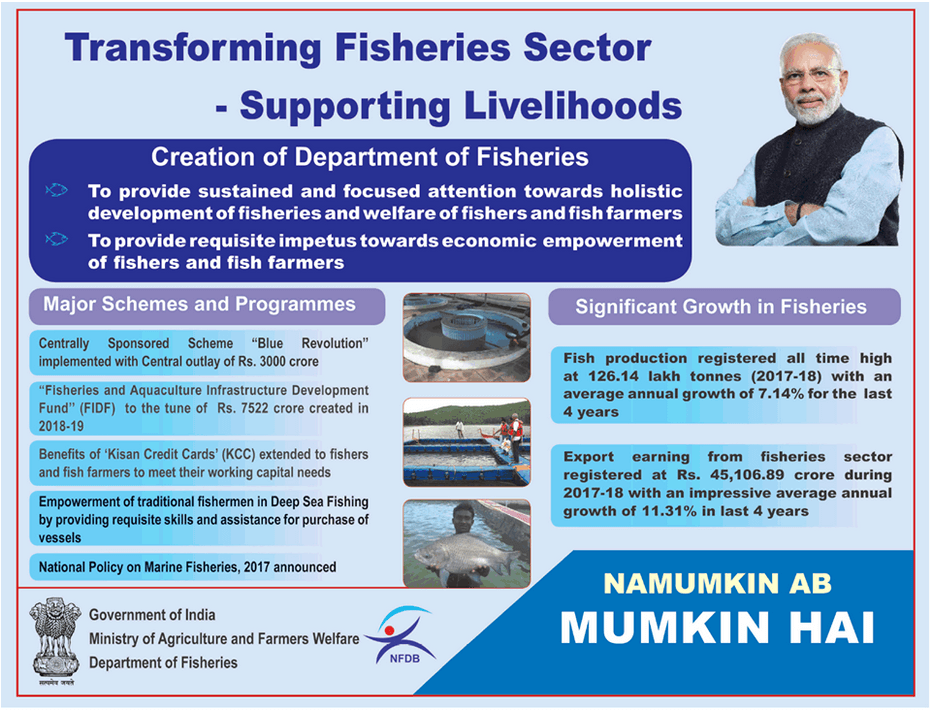 Issues faced by Indian Fisheries
India lies in Tropical belt.
Tropical fisheries have higher oil content which is less desirable for eating.
In the Tropical regions, multiple varieties of fishes occur, but in smaller groups, which is not good for large scale commercial exploitation.
Sector suffers from Lack of a reliable database relating to aquatic & fisheries resources.
Frequent confrontation of Indian Fishermen with Sri Lankan Navy.
Aquatic pollution, destruction of fish habitats & frequent occurrence of Dead Zones/Hypoxic zones leading to shifting or permanent loss of Fishing zone.
Lack of access to quality seed & feed, inadequate availability of credit.
Increased use of Fibre Reinforced plastic (FRB), & poor-quality boats leading to ill effects on marine culture.
Poor infrastructure such as cold storage facilities, leading to an estimated 15-20% post-harvest loss.
Issue of Formalin leads to negative branding of Indian fisheries.