Effects of Water Pollution
Effects of Water Pollution on Human Health
Domestic and hospital sewage contain many undesirable pathogenic microorganisms, and its disposal into a water without proper treatment may cause outbreak of serious diseases, such as, amoebiasis dysentery, typhoid, jaundice, cholera, etc.
Metals like lead, zinc, arsenic, copper, mercury and cadmium in industrial waste waters adversely affect humans and other animals.
Arsenic pollution of ground water has been reported from West Bengal, Orissa, Bihar, Western U.P. Consumption of such arsenic polluted water leads to accumulation of arsenic in the body parts like blood, nails and hairs causing skin lesions, rough skin, dry and thickening of skin and ultimately skin cancer.
Mercury compounds in waste water are converted by bacterial action into extremely toxic methyl mercury, which can cause numbness of limbs, lips and tongue, deafness, blurring of vision and mental derangement.
Pollution of water bodies by mercury causes Minamata (neurological syndrome) disease in humans and dropsy in fishes.
Lead causes lead poisoning (Lead interferes with a variety of body processes and is toxic to many organs and tissues). The compounds of lead cause anaemia, headache, loss of muscle power and bluish line around the gum.
Cadmium poisoning causes cancer of lungs and liverand Itai – Itai disease (a painful disease of bones and joints, causes softening of the bones and kidney failure) etc.
Water contaminated with cadmium can cause itai itai disease also called ouch-ouch disease (a painful disease of bones and joints) and cancer of lungs and liver.
Water Borne Diseases
Bacterial diseases

Disease
Causative organism
Mode of spread
Symptoms
Typhoid
Salmonella typhi
Contaminated food, water, milk, unwash­ed raw vegetables and flies
Continuous fever which increases day by day Temperature higher in evening than morning, body ache, headache and constipation. Haemorrhage from an ulceration in small intestine
Cholera
Vibrio cholerae
Water or food con­taminated by bacteria from stools of chol­era patient
Painless diarrhoea , vomiting, 30-40 stools per day which soon becomes typically watery and colourless with flakes of mucous floating in them
Bacterial Diaorhoea
 Shigella spp.
Contaminated food, water and by direct personal contact
Diarrhoea, with blood and dysentry mucous in the stools along with severe gripping pain in the abdomen. Stools not too frequent (4-10 per day), faecal matter scanty. Patient looks ill
Leptospirosis
Leptospira
Rodents primary hosts-carry organ­isms in kidneys. Infection by wading or swimming in water contaminated with rodent urine
Fever, pain in legs, nausea, vomiting are common, congestion of the conjunctival blood vessels around corneas of the eyes
Viral diseases
Infective Hepatitis
Hepatitis virus
Food and water contaminated with virus in stools
Loss of appetite, nausea, vomiting and diarrhoea, accompanied with fever. Urine dark coloured. Eye and skin appear yellow

Protozoan diseases

Amoebic dysentery
Entamoeba histolytica
Ingestion of cysts in food and water
Abdominal discomfort and diarrhoea, with or without blood or mucous in stools, fever, chills and gripping pain in abdomen
Diarrhoea
Giardia (=Lamblia)

intestinalis

Food or water con­taminated with fae­ces having cysts
Intestinal disorders leading to epigastric pain, abdominal discomfort, loss of appetite, headache and loose bowels
Bilharzia
Schistosoma spp
Cercaria larvae of flukes in water penetrate skin of persons wading in water
Allergy-like itch, rash, aches, fever, eosinophilia etc.

When infection becomes heavy, eggs may block arterioles of lungs cardio-pulmonary water causing schistosomiasis and may lead to congestive heart failure.

Guinea worm
Dracunculus medinensis
Unfiltered water
Blister near the ankle, causing allergy and aches
Disease

Causative organisms

Vector

Hosts

Symptoms

Malaria
Plasmodium sp
Female Anopheles

(primary or final hosts)

Man (inter­mediate hosts)
Shivering, chills and sweating. As chills subside body temperature rises as high as 106° F. When temperature comes down patient sweats profusely and becomes comfortable until next attack which takes place at regular intervals
Filaria (Elephantiasis)
Wuchereria (=filaria)
Culex fatigans
Man (final hosts)
Enlargement of limbs and scrotum
Dengue
Barbo-virus
Aedes aegypti
Man (reservoir)
Sudden onset of moderately high fever, excruciating joint pain, intense pain behind eyes, a second rise in temp following brief remission, reduction in neutrophilic white blood cells
Effects of Water Pollution on Environment
Micro-organisms involved in biodegradation of organic matter in sewage waste consume lot of oxygen, and make water oxygen deficient killing fish and other aquatic creatures.
Presence of large amounts of nutrients in water results in algal bloom [excessive growth of planktonic (free-floating) algae [Harmful Algal Blooms and Eutrophication are explained in the previous post]. This leads to ageing of lakes.
A few toxic substances, often present in industrial waste waters, can undergo biological magnification (Biomagnification) in the aquatic food chain. This phenomenon is well-known for mercury and DDT.
High concentrations of DDT disturb calcium metabolism in birds, which causes thinning of eggshell and their premature breaking, eventually causing decline in bird populations.
Thermal wastewater eliminates or reduces the number of organisms sensitive to high temperature, and may enhance the growth of plants and fish in extremely cold areas but, only after causing damage to the indigenous flora and fauna.
Aquatic organisms take up pesticides from water which get into the food chain and move up the food chain. At higher trophic level they get concentrated and may reach the upper end of the food chain [Biomagnification explained in 'Trophic Levels'].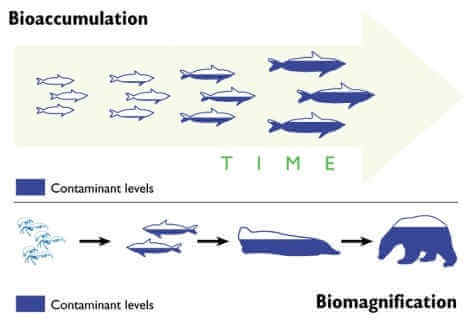 Effects of Water Pollution on Aquatic Ecosystem
Polluted water reduces Dissolved Oxygen (DO) content, thereby, eliminates sensitive organisms like plankton, molluscs and fish etc.
However a few tolerant species like Tubifex (annelid worm) and some insect larvae may survive in highly polluted water with low DO content. Such species are recognized as indicator species for polluted water.
Biocides, polychlorinated biphenyls (PCBs) and heavy metals directly eliminate sensitive aquatic organisms.
Hot waters discharged from industries, when added to water bodies, lowers its DO content.