Distribution of Coal in India: Gondwana Coalfields & Tertiary Coalfields
Subscribe to never miss an important update!
Distribution of Coal in India – Gondwana Coal: Gondwana Coalfields. Tertiary Coal: Tertiary Coalfields, Lignite, Peat. Coking Coal vs. Non-Coking Coal, Coal Reserves, Coal Production, Imports.
Distribution of Coal in India
Gondwana coal fields [250 million years old]
Tertiary coal fields [15 – 60 million years old]
Gondwana Coal
Gondwana coal makes up to 98 per cent of the total reserves and 99 per cent of the production of coal in India. Satpuras, denudation [weathering + erosion] has exposed coal bearing Gondwana strata.
The carbon content in Gondwana coal [250 million years old] is less compared to the Carboniferous coal [350 million years old][Almost Absent in India] because of its much younger age.
Gondwana coal forms India's metallurgical grade as well as superior quality coal.
The Damuda series (i.e. Lower Gondwana) possesses the best worked coalfields accounting for 80 per cent of the total coal production in India. 80 out of 113 Indian coalfields are located in the rock systems of the Damuda series [lower Gondwana Age].
Coking as well as non-coking and bituminous as well as sub-bituminous coal are obtained from Gondwana coal fields.
Anthracite is generally not found in the Gondwana coal fields.
The volatile compounds and ash (usually 13 – 30 per cent) and doesn't allow Carbon percentage to rise above 55 to 60 per cent. [It requires few million years more if the quality has to get better. Remember Gondwana coal is 100 million years younger than Carboniferous coal].
Gondwana coal is free from moisture, but it contains Sulphur and Phosphorous.
These basins occur in the valleys of certain rivers viz., the Damodar (Jharkhand-West Bengal); the Mahanadi (Chhattisgarh-Odisha); the Son (Madhya Pradesh Jharkhand); the Godavari and the Wardha (Maharashtra-Andhra Pradesh); the Indravati, the Narmada, the Koel, the Panch, the Kanhan and many more.
Distribution of Gondwana Coal in India
First coal mine was opened in 1774 at Raniganj in West Bengal.
Coal industry was nationalized in 1973-74. [The present government made some serious changes during the last year [2015] by allowing private sector to play a bigger role in coal production].
India is now the third largest coal producer in the world after China and the USA.
Coal industry provides employment to nearly seven lakh persons.
Gondwana Coalfields == exclusively found in the Peninsular plateau of India.
Gondwana Coalfields in Chhattisgarh
Coalfield

Extent

Korba coalfield
Korba district.
Birampur coalfield
Surguja district.
Hasdo-Arand coalfield
Chirmiri coalfield
Lakhanpur coalfield
Jhilmili coalfield
Shandol district & Koriya district
Johilla coalfield
Johilla valley
Sonhat coalfield
Surguja district
Tatapani-Ramkota coalfields
Surguja district
Gondwana Coalfields in Jharkhand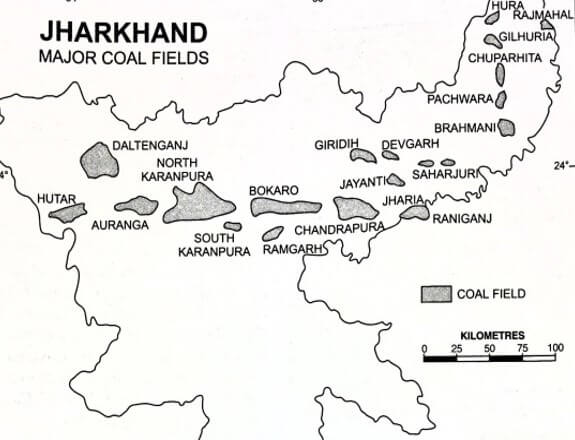 1st in reserves [28%].
2nd in production [20%].
Most of the coal fields are located in a narrow belt running in east-west direction.
Major coalfields are present in Dumka (Santhal Parganas), Hazaribagh, Dhanbad and Palamu.
Jharia, Bokaro, Girdih and Karanpura are the major coal fields
Jharia coalfield
Danbad district
One of the oldest and the richest coalfields of India; store house of the best metallurgical coal [coking coal]
Jayanti coalfields
inferior quality and has high ash content
Bokaro coalfield

West Bokaro [900 m deep]

East Bokaro [600 m deep]

Hazaribagh district
It is a long but narrow strip in the catchment area of the Bokaro river.
Girdih (Karharbari) coalfield
Gives out of the finest coking coal in India for metallurgical purposes.
Karanpura and Ramgarh coalfields
Auranga coalfield
Palamu district
inferior quality; used in cement furnaces and brick kilns
Hutar coalfield
Deltenganj coalfield
Devgarh coalfields
Dumka district
inferior quality
Rajmahal coalfield
Rajmahal hills
inferior quality
Coalfield locations can be asked in Prelims.
Gondwana Coalfields in Odisha
Talcher field
Talcher town to Rairkhol in Dhenkanal and Sambalpur districts
Ranks second in reserves (24,374 million tonnes) after Raniganj;

Coal from this field is most suitable for steam and gas production.

Most of the coal is utilised in thermal power and fertilizer plants at Talcher.

Rampur-Himgir coalfields
Sambalpur and Sundargarh
Coal occurs here in middle and lower Barakar seams.

inferior quality

Ib river coalfield
Sambalpur and Jharsuguda district
Much of the coal is of inferior quality.
Gondwana Coalfields in Madhya Pradesh
Singrauli (Waidhian) coalfield
Sidhi and Shandol districts
largest coalfield of Madhya Pradesh

Jhingurda, Panipahari, Khadia, Purewa and Turra are important coal seams

Jhingurda with a total thickness of 131 m is the richest coal seam of the country.

thermal power plants at Singrauli and Obra

Pench-Kanhan-Tawa
Chhindwara district
Ghoravari seam in Kanhan field is 4.6 m thick and contains coking coal
Sohagpur coalfield
Shandol district
Umaria coalfield
Umaria district
inferior quality with high percentage of moisture and ash.
Gondwana Coalfields in Andhra Pradesh
6th in reserves [7.07 %].
5th in production [9.69 %].
Most of the coal reserves are in the Godavari valley.
Adilabad, Karimnagar, Warangal, Khammam, East Godavari, and West Godavari.
The actual workable collieries are situated at Singareni and Kothagudam.
Almost the entire coal is of non-coking variety.
These are the southern most coalfields of India and a source of coal supply to most of south India.
Gondwana Coalfields in Maharashtra
3 per cent reserves.
7 per cent of the production.
Gondwana Coalfields in West Bengal
4 % of India's coal.
11 % of the coal reserves.
Darjeeling and Jalpaiguri are the chief producing districts.
RANIGANJ is the largest coalfield of West Bengal.
Raniganj == Barddhaman, Bankura and Purulia districts; Small part of this field is in Jharkhand state.
The coal here is non-coking steam coal.
Dalingkot coalfield == Darjeeling district.
Gondwana Coalfields in Uttar Pradesh
Do not possess coal reserves.
A small portion of the Singrauli field of Madhya Pradesh falls within Mirzapur district.
A high grade coal seam, about 1 to 1.5 m thick occurs near Kotah.
Tertiary Coal
Tertiary coal 15 to 60 million years old. Carbon content is very low.
Mainly confined to the extra-Peninsula [Jammu and Kashmir, Himachal Pradesh, Assam, Arunachal Pradesh etc.]
Coal generally has low carbon and high percentage of moisture and Sulphur.[It takes few hundred million years for the carbon content to improve].
Important areas of Tertiary coal include parts of Assam, Meghalaya, Arunachal Pradesh, Nagaland, Himalayan foothills of Darjeeling in West Bengal, Jammu and Kashmir, Uttar Pradesh, Rajasthan, Kerala,
Tamil Nadu and the union territory of Pondicherry also bear tertiary coal reserves [exceptions].
Tertiary Coalfields in Assam
Makum, Nazira, Mikir Hills, Dilli-Jeypore and Lakhuni.
Makum coalfield in Sibsagar district is the most developed field.
Assam coals contain very low ash and high coking qualities but the sulphur content is high, as a result of which this coal is not suitable for metallurgical purposes.
But these coals are best suited for hydrogenation process and are used for making liquid fuels.
Tertiary Coalfields in Arunachal Pradesh
Upper Assam Coal belt extends eastwards as Namchick-Namrup coalfield.
High in volatiles and in sulphur.
Tertiary Coalfields in Meghalaya
Garo, Khasi and Jaintia hills.
Darrangiri field == Garo hills.
Siju, Cherrapunji, Liotryngew, Maolong and Langrin coalfields == Khasi and Jaintia hills.
Tertiary Coalfields in Jammu and Kashmir, Himachal Pradesh
Kalakot and surrounding regions in Jammu, south of Pirpanjal.
Himachal Pradesh == Chamba district.
Tertiary Coal – Lignite
Tamil Nadu, Gujarat, Jammu and Kashmir, Kerala, Rajasthan, West Bengal and Puducherry.
Tamil Nadu excels all other states regarding reserves and production of lignite.
Lignite in Tamil Nadu
90 per cent of the reserves.
57 per cent of the production.
Neyveli Lignite fields of Cuddalore district.
These are the largest deposits of lignite in south – east Asia.
Neyveli mines suffer from the artesian structure [mining goes deep and deep].
Mining in Lignite coalfields is risky due to SPONTANEOUS COMBUSTION of lignite.
Lignite in Gujarat and Rajasthan
Kachchh district and Dharuch district; poor quality.
Rajasthan == Palana in Bikaner district; The 250 MW thermal plant at Bikaner wholly depends upon lignite as the basic fuel.
Tertiary Coal – Peat
Confined to a few areas only.
Occurs in Nilgiri hills.
Kashmir valley, peat occurs in the alluvium of the Jhelum.
In West Bengal peat beds are noted in Kolkata and its suburbs.
In the Ganga delta, there are layers of peat which are composed of forest and rice plants.
Problems of Coal Mining in India
The distribution of coal is uneven.
High ash content and low caloric value.
Large percentage of coal is taken out from underground mines. [Very few open cast mines]
Heavy losses due to fires in the mines.
Pilferage at several stages also adds to losses – bad transportation infrastructure.
Serious problem of environmental pollution. High ash, moisture == more smoke.
Safety measures against environmental pollution are very costly. Clean coal technology == Complex technology.
Misuse of good quality coal for burning into transport and industries.
Short life of metallurgical coal.
Selective mining leading to large scale wastage of raw coal
Unscientific method of extraction of coal.
Measures to be taken
Coking coal should be used for metallurgical industry only.
Low grade coal should be washed and blended with superior quality coal in requisite proportion and used in industries. [Clean Coal Technology]
Selective mining should be discouraged and all possible coal from the mines should be taken out.
New reserves should be discovered and new techniques should be adopted.
Alternative energy sources should be encouraged.
Coking Coal vs. Non-Coking Coal
Coking Coal or Metallurgical Coal

Thermal Coal or Non-Coking Coal or Steaming coal

High carbon content, less moisture, less sulphur, less ash.

Sulphur is very bad for iron and steel industry.

Sulphur content is high and hence cannot be used in iron and steel industry.
Used to create coke.

Coke is produced by heating bituminous coal without air to extremely high temperatures.

Coking == flushing out impurities and improving the concentration of carbon.

Creating coke using this coal is not economical.

Moreover traces of sulphur will remain even after coking.

Coking coal is an essential ingredient in steel production.
Thermal coal is used to generate power.
Major producers: Australia, Canada, United States.

Major exporters: Australia, Canada, United States.

China imports huge amount of coking coal from Australia.

India also imports coking coal.

Major producers: China, Australia, USA, Russia.

Major exporters: Australia, South Africa.
Coal Reserves in India by State
| | | |
| --- | --- | --- |
| Name of the state | Reserves in billion tonne | % of total reserves |
| 1. JHARKHAND | 80.71 | 26.76 |
| 2. ODISHA | 75.07 | 24.89 |
| 3. CHATTISHGARH | 52.53 | 17.42 |
| 4. WEST BENGAL | 31.31 | 10.38 |
| 5. MADHYA PRADESH | 25.67 | 8.51 |
| 6. ANDHRA PRADESH | 22.48 | 7.45 |
| 7. MAHARASTRA | 10.98 | 3.64 |
| 8. OTHERS | 2.81 | 0.95 |
Coal Production in India by State
All data from 2013-2014. For latest data you must follow newspapers or Reports published by Ministry of Coal.
Remember top 3 positions in all data below.
Coking Coal Production by State
Jharkhand [More than 90% of India's Coking coal comes from Jharkhand]
West Bengal
Madhya Pradesh
Non Coking Coal Production By State
Chhattisgarh
Odisha
Madhya Pradesh
Jharkhand
Andhra Pradesh
Total Coal Production By State
Chhattisgarh
Jharkhand
Odisha
Madhya Pradesh
Andhra Pradesh
India's Coal Imports and Exports
Major Coalfields in India
Major Coalfields in India
1. Singrauli
2. Karanpura Bokaro
3. Jharia
4. Raniganj
5. Ib & Talcher
6. Pench & Kanhan
7. Singareni – Godavari Velley
8. Lignite: TN, Gujrat And Rajasthan
Primary References: NCERT Geography, Indian Geography by Kullar [Amazon and Flipkart]
Refer to the latest edition of Physical Geography Hardcopy/PDF and Current Affairs for the most updated information on this topic.
Rs. 398
Rs. 499
in stock
4 new from Rs. 398
as of December 5, 2023 7:07 AM
Last updated on December 5, 2023 7:07 AM