Very few questions are asked in prelims [time to benefit ratio is too low] from this section. You can ignore these concepts if you found them too scientific.
The Universe
Universe ==> all existing matter and space.
Tiniest subatomic particles to galactic super-clusters.
The universe is incomprehensively large in size and dimension.
Made up of 100 billion galaxies, each comprising an average of 100 billion of stars.
Most scientists believe that the universe began about 13.8 billion years ago in what has become known as the Big Bang.
This gigantic explosion caused matter to expand to form billions of swirling galaxies and over the time, the stars and their planets.
Big Bang Theory and Expanding Universe
The Big Bang theory is the prevailing cosmological model for the birth of the universe.
It states that at some moment all of space was contained in a single point from which the Universe has been expanding ever since.
Modern measurements place this moment at approximately 13.8 billion years ago, which is thus considered the age of the universe
After the initial expansion [inflation], the Universe cooled sufficiently to allow the formation of subatomic particles, and later simple atoms.
The majority of atoms produced by the Big Bang were hydrogen, along with helium.
Giant clouds of these primordial elements later coalesced through gravity to form stars and galaxies.
According to this theory, the universe, ever since its birth, is expanding in all directions uniformly.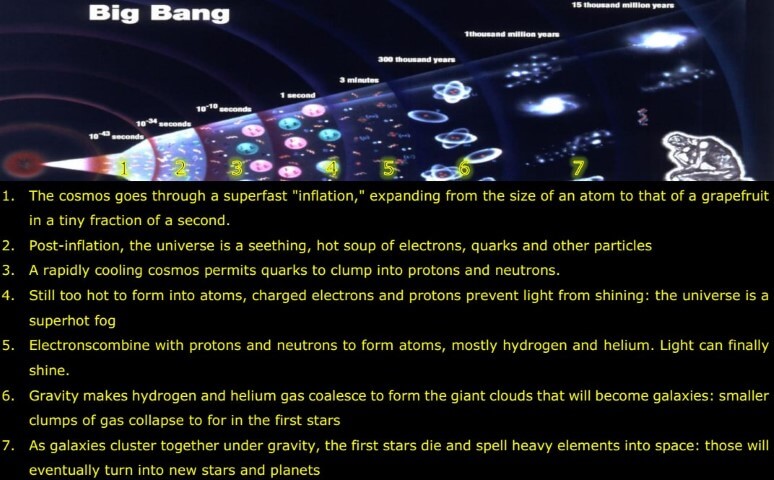 Expanding Universe
Big Crunch
Universe would reach a maximum size and then begin to collapse.
It would become denser and hotter again, ending with a state similar to that in which it started—a Big Crunch.
| | | |
| --- | --- | --- |
| Time | Temperature in ◦c | Event |
| 10-43 Sec | 1032 | The cosmos goes through a superfast "inflation," expanding from the size of an atom to that of a grapefruit in a tiny fraction of a second. |
| 10-32 Sec | 1027 | Post-inflation, the universe is a seething, hot soup of electrons, quarks and other particles |
| 10-6 Sec | 1013 | A rapidly cooling cosmos permits quarks to clump into protons and neutrons. |
| 3 min | 108 | Still too hot to form into atoms, charged electrons and protons prevent light from shining: the universe is a superhot fog |
| 3,00,000 years | 10,000 | Electrons combine with protons and neutrons to form atoms, mostly hydrogen and helium. Light can finally shine. |
| 1 billion years | -200 | Gravity makes hydrogen and helium gas coalesce to form the giant clouds that will become galaxies: smaller clumps of gas collapse to for in the first stars |
| 15 billion years | -270 | As galaxies cluster together under gravity, the first stars die and spell heavy elements into space: those will eventually turn into new stars and planets |
Which of the following is/are cited by the scientists as evidence/evidences for the continued expansion of universe?
Detection of microwaves in space
Observation of redshift phenomenon in space
Movement of asteroids in space
Occurrence of supernova explosions in space
Select the correct answer using the using the codes:
1 and 2
2 only
1, 3 and 4 only
None of the above
Ans) a
Cosmic microwave background
The cosmic microwave background (CMB) is the thermal radiation left over from the "Big Bang".
The CMB is a cosmic background radiation that is fundamental to observational cosmology because it is the oldest light in the Universe and can be found in all directions.
With a traditional optical telescope, the space between stars and galaxies (the background) is completely dark. However, a sufficiently sensitive radio telescope shows a faint background glow, almost exactly the same in all directions, that is not associated with any star, galaxy, or other object. This glow is strongest in the microwave region of the radio spectrum.
The CMB is well explained as radiation left over from an early stage in the development of the Universe, and its discovery is considered a landmark test of the Big Bang model of the Universe.
What Are Redshift and Blueshift?
Redshift and Blueshift describe how light changes as objects in space (such as stars or galaxies) move closer or farther away from us. The concept is key to charting the universe's expansion.
Visible light is a spectrum of colors, which is clear to anyone who has looked at a rainbow.
When an object moves away from us, the light is shifted to the red end of the spectrum, as its wavelengths get longer.
If an object moves closer, the light moves to the blue end of the spectrum, as its wavelengths get shorter.
American astronomer Edwin Hubble (who the Hubble Space Telescope is named after) was the first to describe the redshift phenomenon and tie it to an expanding universe. His observations, revealed in 1929, showed that nearly all galaxies he observed are moving away.
Primary References: NCERT Geography, Spectrum's Geography [Amazon and Flipkart]