Sagarmala Project – India's Port-led Development Programme
Sagarmala Project
GS 3 – Infrastructure – Ports
Sagarmala project is a port-led development programme of Ministry of Shipping.
A Shipping ministry study has claimed that the project could lead to an annual saving of Rs 40,000 crore by optimizing logistics.
Need for such a project
Explain the importance of Sagarmala Project to the Indian Economy. What are Objectives of the project?
Currently 95% of India's trade by value and 70 % by volume take place through maritime transport.
India is lacking the high quantity of international trade via coastal line due to the lack of infrastructure facilities and advanced coastal technologies.
The cost of shipping/evacuating goods through Indian maritime transport is quite high compared to that of China, South Korea, Japan and other developed countries. This makes Indian goods uncompetitive in the international market.
China, South Korea and Japan have effectively used their coastline for 'port-led development'. India has to replicate their model to stay competitive.
So, a plan has to be devised to reduce logistics cost and strengthen India's EXIM industry. Sagarmala Project is one such plan.
Objectives of the project
Augmenting operational efficiency of ports (more terminals for loading and unloading cargo)
Optimizing logistics (rails, roads and inland waterways).
Identify capacity additions (more ports wherever viable).
Modernize India's Ports so that port-led development can be augmented.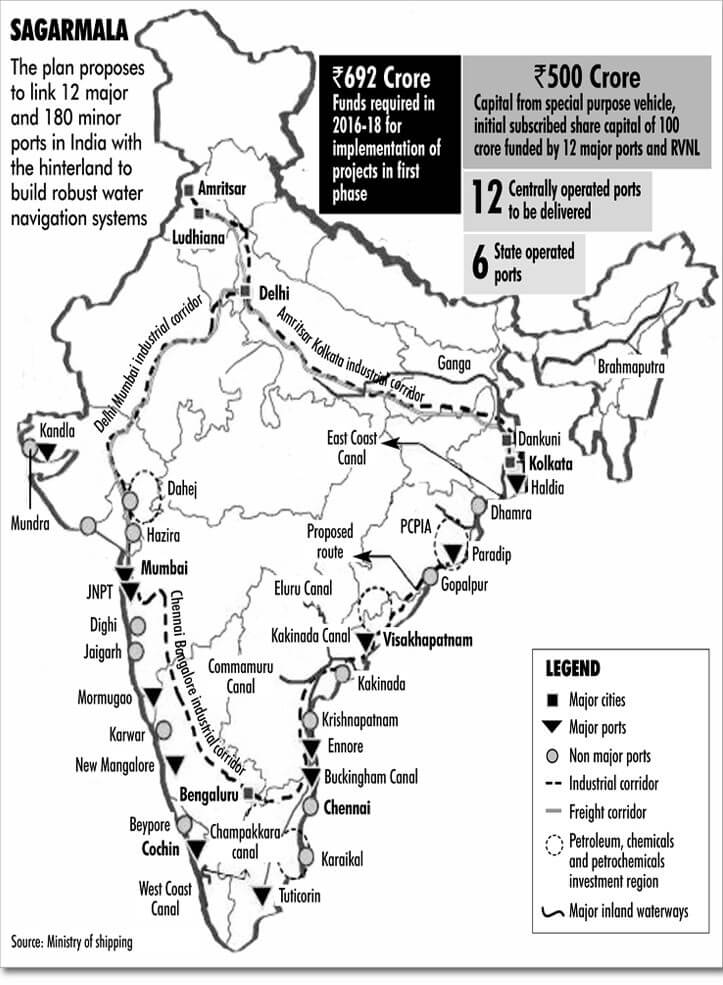 Credits: http://goo.gl/N1cw89
Suggested recommendations under the project
Promoting coastal shipping of bulk commodities like coal.
Setting-up coastal clusters for bulk commodities like cement & steel.
Providing last-mile connectivity of ports with National Highways and Railway network.
Establishing new transshipment port (transfer cargo from one ship to another).
Creating dedicated coastal berth ports for coastal shipping.
Setting up storage capacities at origin-destination ports to shorten turnaround time.
Developing adequate ship-repair facilities in the maritime states.
How can the project become successful
Constructing new ports by securing private-sector participation through PPP models.
Improving the port connectivity via various rail corridors, freight friendly expressways and inland waterways.
National Sagarmala Apex Committee (NSAC)
A National Sagarmala Apex Committee (NSAC) is envisaged for
overall policy guidance,
high level coordination, and
to review various aspects of planning and implementation of the plan and projects.
Six megaports are planned under Sagarmala project
| | | |
| --- | --- | --- |
| State | Place | Port |
| Kerala | Vizhinjam | Vizhinjam International Seaport |
| Tamil Nadu | Colachel | Colachel Seaport |
| Maharashtra | Vadhavan(near Dahanu) | Vadhavan Port |
| Karnataka | Tadadi | Tadadi port |
| Andhra Pradesh | Machilipatnam | Machilipatnam Port |
| West Bengal | Sagar Island | Sagar Island Port |
Sagarmala project is recently in news. What is the project about?
It is a counter to China's String of Pearls.
It is a port-led development programme.
It is a security infrastructure envisaged by India in the Indian Ocean region.
It is a defense capability enhancement project of Indian Navy.