[CA 21-08-2016] Bio-Medical Waste Rules, 2016
Subscribe to never miss an important update!
The Hindu
Bio-Medical Waste (Management and Handling) Rules, 2016
GS3 – Pollution – Hazardous waste
Backdrop: The National Green Tribunal has directed the Tamil Nadu Pollution Control Board (TNPCB) to initiate action against hospitals committing gross violations of Bio-Medical Waste (Management and Handling) Rules, 1998.
Bio-medical waste
Biomedical waste comprises human & animal anatomical waste and treatment apparatus like needles used in health care facilities (HCF – hospitals, laboratories, blood banks, immunization programmes).
Total bio-medical waste generation in the country is 484 TPD out of which 447 TPD is treated. The remaining is dumped in its hazardous form into the environment.
Scientific disposal of Biomedical Waste in an environmentally sound manner minimizes the adverse impact on health workers and on the environment.
It will prevent the spreading of infections through biomedical waste.
Problems of unscientific Bio-medical waste disposal
85% of the hospital waste is non-hazardous, 15% is infectious/hazardous. Mixing of hazardous results in to contamination and makes the entire waste hazardous.
Improper disposal can lead to many diseases in animals as well as humans. (cows eat waste and man eats cow meat).
Encourages recycling of prohibited disposables and drugs which will further spread infections.
Develops resistant microorganisms.
Procedure to be followed
The hospitals are required to put in place the mechanisms for effective disposal either directly or through common biomedical waste treatment and disposal facilities.
The hospitals servicing 1000 patients or more per month are required to obtain authorization and segregate biomedical waste into categories as specified by the rules.
Violations
If body fluids are present, the material needs to be incinerated. Most medical facilities fail to follow the regulations.
It is often found that biomedical waste is put into the ocean, where it eventually washes up on shore.
Many doctors and paramedical staff are unaware of the risks related to biomedical wastes.
Many medical facilities are undeveloped in the area regarding biomedical waste.
A large number of health care facilities don't know how to sort the waste correctly. There are specific colored bags and bins that are recommended for each type of waste.
For example, syringes, needles and blood-soiled bandages should be all disposed of in a red colored bag or bin, where it will later be incinerated (destroy by burning).
Bio-Medical Waste Management Rules 2016 Notified
Bio-Medical Waste Management Rules 2016 is an improvement to 1998 rules.
New Rules are measures taken in the spirit of Clean India Mission.
Salient features of BMW Management Rules, 2016
The ambit of the rules has been expanded to include vaccination camps, blood donation camps, surgical camps or any other healthcare activity;
Phase-out the use of chlorinated plastic bags, gloves and blood bags within two years;
Pre-treatment of the laboratory waste, microbiological waste, blood samples and blood bags through sterilization on-site;
Provide training to all its health care workers and immunize all health workers regularly;
Establish a Bar-Code System for bags or containers containing bio-medical waste for disposal;
Bio-medical waste has been classified in to 4 categories instead 10 to improve the segregation of waste at source;
Procedure to get authorization simplified.
Inclusion of emissions limits for Dioxin and furans;
State Government to provide land for setting up common bio-medical waste treatment and disposal facility;
No occupier shall establish on-site treatment and disposal facility, if a service of is available at a distance of seventy-five kilometer.
Operator of a common bio-medical waste treatment and disposal facility to ensure the timely collection of bio-medical waste from the HCFs
SBI merger
State Bank of India has started the process of merging its five associate banks (Mysore, Hyderabad, Travencore, Bikaner & Jaipur, and Patiala) and Bharatiya Mahila Bank.
Benefits
The merger of the banks will result in a reduction in operating costs.
Merger will also lead to faster rollout of digital initiatives across the bank.
Importance
This is the first ever large-scale consolidation in the Indian banking industry.
The merger will create a banking behemoth with an asset book of Rs 37 lakh crore.
The merger will see SBI's ranking approve in the Bloomberg's largest bank by asset ranking. It may well break through the 50-mark in the ranking.
SBI's asset base will now be five times larger than the second-largest Indian bank, ICICI Bank.
Swap Ratio
The ratio in which an acquiring company (SBI) will offer its own shares in exchange for the target company's shares during a merger or acquisition.
Companies analyze earnings per share, profits after tax and dividends paid and other factors before fixing swap ratio.
Source: http://goo.gl/ZoxSrJ
Swap Ratios in SBI merger
SBI will give
28 of its shares for every 10 shares held of State Bank of Bikaner and Jaipur.
22 of its shares for every 10 shares held of State Bank of Mysore.
22 of its own shares for every 10 shares held of State Bank of Travancore.
42 crore shares with face value of Re. 1 for every 100 crore equity (ownership) shares of Bhartiya Mahila Bank.
State Bank of Hyderabad and State Bank of Patiala are 100 per cent owned by SBI.
Source: http://goo.gl/4U0pQk
Myanmar to support Silk Road, BCIM
Myanmar agreed to support China's 'Belt and Road' connectivity initiative along the ancient Silk Road.
It also supported the Bangladesh-China-India-Myanmar (BCIM) economic corridor meant to industrialize a stretch — spanning more than 2,000-km — linking Kunming in China with Mandalay in Myanmar, passing through Bangladesh, and ending at Kolkata in India.
Made-in-India leprosy vaccine to be launched
Prelims – General Science – Biology
Leprosy
Leprosy, also known as Hansen's disease (HD).
It is a long term bacterial infection caused by Mycobacterium leprae and Mycobacterium lepromatosis.
Leprosy is spread between people through cough or contact with fluid from the nose of an infected person.
Contrary to popular belief, it is not highly contagious.
Poor people living in unhygienic conditions are highly vulnerable to this disease.
It affects around 1.25 lakh people every year in India.
Sixty per cent of the world's leprosy patients live in India.
Social stigma surrounding the diseases is the major concern.
Mycobacterium indicus pranii (MIP) Vaccine
The MIP vaccine is developed by the National Institute of Immunology, New Delhi.
The vaccine is administered as a preventive measure to people living in contact with those infected.
PIB
Non-Invasive Prenatal Test (NIPT)
Prelims – Biology – Technical topic (low priority topic – you can ignore this one)
All the above genetic diseases cause severe organ disorders in fetus.
The test will screen the blood sample for chromosomal disorders that include trisomy 21 (Down's syndrome), trisomy 18 (Edwards syndrome) and trisomy 13 (Patau syndrome).
Many expectant mothers now access NIPT that examines foetal DNA in the mother's blood to determine whether there is a high risk of chromosomal defects.
Technology has now made it easier to detect disorders in the early stages of pregnancy.
Genetic disorders are third most common cause of mortality in newborns.
Trisomy 21 (Down's syndrome): Each cell in the body contains full extra copy of chromosome 21.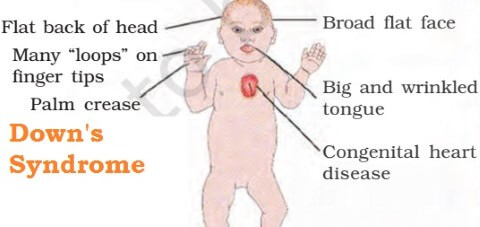 Trisomy 18 (Edwards Syndrome): Each cell in the body contains full extra copy of chromosome 18.
Trisomy 13 (Patau Syndrome): Each cell in the body contains full extra copy of chromosome 13.
More about chromosomal disorders: Chromosomal Disorders
Invasive amniocentesis
Prenatal test where a small amount of amniotic fluid is removed for testing from the sac surrounding the foetus.
NIPT is only a screening test. Invasive amniocentesis (diagnostic test) is performed if NIPT is positive.
Mars rover finds buttes and mesas
Prelims – CA
Mars rover landed four years ago on Gale Crater of Mars.
The mesas and buttes have a relatively flat foreground.
The buttes and mesas of Mars are capped by material that is relatively resistant to erosion, just as is the case with many similarly shaped buttes and mesas on Earth.
A key goal is to learn how freshwater lake conditions evolved into arid conditions.