Soil Degradation – Soil Erosion, Deforestation, Overgrazing, Faulty Methods of Agriculture, Soil Salinity & Soil Alkalinity, Desertification, Waterlogging.
Soil Degradation
Soil degradation is the decline in soil quality caused by its improper use, usually for agricultural, pastoral, industrial or urban purposes.
Soil degradation is a serious global environmental problem and may be exacerbated by climate change. It encompasses physical (soil erosion), chemical (salinity and alkalinity, pollution) and biological deterioration (pollution and deterioration of vegetal cover).
We will see pollution and soil degradation white studying environment.
For now we will study about the rest.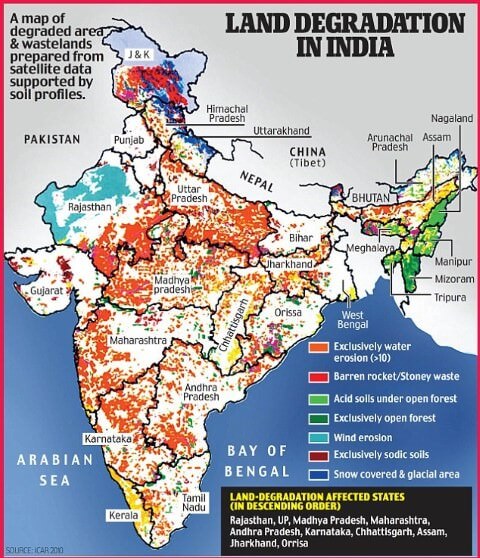 Pic Credits: Dailymail
Soil Erosion
Soil erosion is the removal of top soil by agents like wind and water.
Top soil has most of the nutrients necessary for a plant's growth. With depth, the fertility of the soil decreases. Thus, erosion results in reduction of fertility of the soil by washing away the fertile top layer.
Erosion by wind and water is much quicker than the soil formation process. So once fertile soil layer is lost, it requires a lot of time and resources to restore it.
Prevention is a more practical measure. It is less time and resource consuming.
In India's case, the problem of soil erosion is particularly severe due to over dependence on agriculture and improper land management.
Notable Quotable: "Soil erosion is essentially a problem created by man and also faced by man himself."
Water Erosion
Water erosion leads to rilling, gullying, sheet-wash and rain peeling.
If erosion continues unchecked for a long time, numerous finger-shaped grooves may develop in the silt laden soils. The whole pattern resembles the shape of a tree. This is called rill erosion.
With further erosion of the soil, the rills deepen and become enlarged and are turned into Gullies formed over a large area gives rise to badland topography (Chambal Ravines).
When a gully bed is eroded further, the bed gradually deepens and flattens out and a ravine is formed. The depth of a ravine may extend to 30 metres or more.
Further erosion of ravine beds gives rise to Canyons are few hundred meters deep and wide. (Grand Canyon on Colorado River).
When the entire top sheet of soil is washed away by water or by wind, leaving behind barren rock, it is called sheet erosion. Sheet erosion attacks a large area of top soil and renders the land almost unfit for cultivation.
In the coastal areas, waves dash along the coast and cause heavy damage to soil. During the landfall of cyclones, storm surges destroy beaches and wash away the top layer. In estuaries, tidal bores cause extensive damage to the surrounding banks. This is called sea erosion.
In the higher reaches of the Himalayan region, soil erosion is caused by sowing moving glaciers. This is called glacial erosion.
Wind Erosion
Wind erosion or Aeolian erosion is quite significant in arid and semi-arid regions.
Winds usually blow at high speeds in deserts due to absence of trees (physical obstruction).
These winds remove the fertile, arable, loose soils leaving behind a depression devoid of top soil (the depression formation in deserts is the first step in Oasis formation. Oasis forms in depressions when there is underground water that gets accumulated above rocks).
Desertification around desert regions is due to wind erosion.
Wind erosion is accentuated when the soil is dry, soils are subjected to overgrazing and devoid of vegetation cover.
Very fine and medium sands are moved by wind in a succession of bounds and leaps, known as
Coarse sand is not usually airborne but rather is rolled along the soil surface. This type of erosion is called surface creep.
Very coarse sand and gravels are too large to be rolled by wind, so wind-eroded soils have surfaces covered with coarse fragments larger than 1.00 mm in diameter. This kind of arid soil surface is known as desert pavement.
Extent Of Soil Erosion In India
80 million hectares or about one-fourth of our total area is exposed to wind and water erosion.
One-eighth of land has undergone serious erosion.
Wind erosion is a serious problem in arid and semi-arid parts of north west India.
About one-ninth of land is subject to severe wind erosion in Rajasthan and adjoining areas of Punjab, Haryana, Gujarat and Western Uttar Pradesh.
It is estimated that 34 lakh tonnes of fertile soils is removed by wind every year.
The loss due to water erosion is 53.34 million hectares annually.
Factors affecting Soil Erosion
Intensity and duration of rainfall,
Wind speed,
Nature of soil and the physiography,
Strong winds in dry areas,
Human density,
Deforestation,
Overgrazing,
Faulty methods of agriculture,
Diversion of natural drainage courses,
Wrong orientation of roads and railways, embankments and bridges.
Effects of Soil Erosion
Fertile top soil is eroded.
Flooding and leaching result in loss of mineral nutrients.
Ground water level is lowered.
There is decrease in soil moisture.
Frequency and intensity of floods and drought increases.
Rivers, canals and tanks are silted and their water holding capacity decreases.
The incidence and damaging power of landslides increases.
Deforestation
Population explosion has created pressure on forest land and resources and this causes deforestation. Deforestation accentuates soil erosion (soil degradation).
Roots of trees and plants bind the soil particles and regulate the flow of water, thus saving soil from erosion. Deforestation make soil vulnerable to wind and water erosion.
The large scale damage to soil in Shiwalik range, the Chos of Punjab, the ravines of Chambal valley are due to deforestation.
Overgrazing
During the rainy season, there is plenty of vegetation and animals get enough fodder.
But during the dry period, there is shortage of fodder and the grass is grazed to the ground and torn out by the roots by animals.
This leads to loose structure of the soil and the soil is easily washed away by rains.
Moreover, soil is pulverized (reduce to fine particles) by the hoofs of animals, and thus proves detrimental to top soil when heavy showers fall on it.
Soil erosion due to overgrazing is a common site in the hilly areas.
Faulty Methods of Agriculture
Much of the soil erosion in India is caused by faulty methods of agriculture.
Wrong ploughing, lack of crop rotation and practice of shifting cultivation are the most adversely affecting methods of agriculture.
If the fields are ploughed along the slope, there is no obstruction to the flow of water and the water washes away the top soil easily.
In some parts of the country, the same crop is grown year after year which spoils the chemical balance of the soil. This soil is exhausted and is easily eroded by wind or water.
Shifting cultivation practiced in some areas in the north-eastern states. In this method, a piece of forest land is cleared by felling and burning of trees and crops are grown. The removal of the forest cover leads to the exposure of the soil to rains and sun which results in heavy loss of top soil, especially on the hill slopes.
Soil Salinity and Soil Alkalinity
In Saline and Alkaline Soils, the top soil is impregnated (soak or saturate with a substance) with saline and alkaline efflorescences (become covered with salt particles).
Undecomposed rock fragments, on weathering, give rise to sodium, magnesium and calcium salts and sulphurous acid.
Some of the salts are transported in solution by the rivers.
In regions with low water table (due to over irrigation in canal irrigated areas), the salts percolate into sub soil and in regions with good drainage, the salts are wasted away by flowing water.
But in places where the drainage system is poor, the water with high salt concentration becomes stagnant and deposits all the salts in the top soil once the water evaporates.
In regions with high sub-soil water table, injurious salts are transferred from below by the capillary action as a result of evaporation in dry season.
In canal irrigated areas plenty of the water is available and the farmers indulge in over irrigation of their fields.
Under such conditions, the ground water level rises and saline and alkaline efflorescences consisting of salts of sodium, calcium and magnesium appear on the surface as a layer of white salt through capillary action.
Alkalinity implies the dominance of sodium salts, specially sodium carbonate.
Although salts of alkali are somewhat different in their chemical properties from the salts of saline soils both soils occur in the same areas.
Sandy soils are more prone to alkalinity and the loamy soils to salinity-alkalinity.
It is estimated that about 80 lakh hectares of land (2.43% of the country's total area) is affected by the problem of salinity and alkalinity.
Vast tracts of canal irrigated areas in Uttar Pradesh. Punjab and Haryana; arid regions of Rajasthan, semi-arid areas of Maharashtra, Gujarat, Andhra Pradesh, Telangana and Karnataka etc. are facing this problem.
Although Indira Gandhi canal in Rajasthan has turned the sandy desert into a granary, it has given birth to serious problems of salinity and alkalinity.
Effects of salinity and alkalinity
Salinity and alkalinity have adverse effect on soil and reduce soil fertility.
Cultivation is not possible on saline soils unless they are flushed out with large quantities of irrigation water to leach out the salts.
Choice of crops is limited to salinity tolerant crops like cotton, barley etc..
Quality of fodder and food produced in poor in quality.
Salinity and alkalinity create difficulties in building and road construction.
These cause floods due to reduced percolation of water.
Steps to treat salinity and alkalinity
Providing outlets for lands to drain out excess water and lower water table.
Seal leakages from canals, tanks and other water bodies by lining them.
Making judicious use of irrigation facilities.
Improve vegetal cover to avoid further degradation by planting salt tolerant vegetation.
Crop rotation..
Liberal application of gypsum to convert the alkalies into soluble compounds.
Alkali can be removed by adding sulphuric acid or acid forming substances like sulphur and pyrite.
Organic residues such as rice husks and rice straw can be added to promote formation of mild acid as a result of their decomposition.
Flushing the salt by flooding the fields with excess water. However, this practice can lead to accumulation of saline water in the downstream area.
Desertification
Desertification is the spread of desert like conditions in arid or semi-arid areas due to man's influence or climatic change.
A large part of the arid and semi-arid region lying between the Indus and the Aravali range is affected by spreading desert conditions.
Desert soils suffer maximum erosion by wind. The sand carried by wind is deposited on the adjoining fertile lands whose fertility dwindles and slowly the fertile land start merging with the advancing desert.
It has been estimated that the Thar Desert is advancing at an alarming rate of about 0.5 km per year.
The process of desertification is attributed to uncontrolled grazing, reckless felling of trees and growing population. Climate change have also contributed to the spread of deserts.
Ecological implications of desertification
Drifting of sand and its accumulation on fertile agricultural land.
Excessive soil erosion by wind and to some extent by water.
Deposition of sand in rivers, lakes and other water bodies thereby decreasing their water containing capacity.
Lowering of water table leading to acute water shortage.
Increase in area under wastelands.
Decrease in agricultural production.
Increase in frequency and intensity of droughts.
Measures of Controlling Desertification
Intensive tree plantation in the transition zones.
Mulching shifting sand dunes in deserts with different plant species. Mulches serve as an effective physical barrier to the moving sand.
Grazing should be controlled and new pastures should be developed.
Indiscriminate felling of trees should be banned.
Alternative sources of fuel can reduce the demand for fuelwood.
Sandy and wastelands should be put to proper use by judicious planning.
Waterlogging
The flat surfaces and depressions results in waterlogging.
Waterlogged soils are soaked with water accumulated during rainy season or due to leakage from various water sources.
Extent of waterlogged soils is about 12 million hectares in India – half of which lies along the coast and the other half in the inland area.
Waterlogging is believed to be one of the chief causes of salinity.
Proper layout of drainage schemes is the only way to overcome the menace of waterlogging.
The basic methods of removing excess water from waterlogged soils are (a) surface drainage and (b) vertical drainage.

Surface Drainage. Surface drainage involves the disposal of excess water over ground surface through an open drainage system with an adequate outlet.
Vertical Drainage. Any bore or well from which the underlying water is extracted is defined as vertical drainage. It works well in Indo-Gangetic plain where the pumped water is used for irrigating the neighboring regions.
Primary References: NCERT Geography, Indian Geography by Kullar [Amazon and Flipkart]