Promoting Organic Farming: NPOP & Participatory Guarantee Scheme
Lakshadweep, after

Sikkim

, is on its way to become 100 per cent organic.
Lakshadweep is the first Union Territory to become 100 per cent organic.
In January 2016,

Sikkim became India's first "100 percent organic" State

.
Organic Farming
Organic farming is a type of agriculture or farming which avoids the use of synthetic fertilizers, pesticides, growth regulators, & livestock feed additives.
Organic farming systems rely on crop rotation, crop residues, animal manures, legumes, green manure, off-farm organic wastes & biofertilizers, mineral bearing rocks to maintain soil productivity, etc.
Suggested Reading: Organic Farming
Organic farming in India
India ranks first in number of organic farmers

&

ninth in terms of area under organic farming.

Sikkim became the first State in the world to become fully organic.
States including Tripura & Uttarakhand have set similar targets.
North East India has traditionally been organic, & the consumption of chemicals is far less than rest of the country.
About 2.78 million hectares of farmland is under organic cultivation.
This is two per cent of the 140.1 million ha net sown area in the country.

Madhya Pradesh

tops the list with 0.76 million ha of area under organic cultivation — that is over 27 per cent of India's total organic cultivation area.
The top three states — Madhya Pradesh, Rajasthan, & Maharashtra — account for about half the area under organic cultivation.
Major organic exports from India are flax seeds, sesame, soybean, tea, medicinal plants, rice & pulses.
Major exporting states: Assam, Mizoram, Manipur, & Nagaland.
Initiatives to promote Organic Farming in India
Schemes launched to promote organic farming:
Mission Organic Value Chain Development for North East Region (MOVCD) &
Paramparagat Krishi Vikas Yojana (PKVY).
Both PKVY & MOVCD are promoting certification under

Participatory Guarantee System (PGS)

&

National Program for Organic Production (NPOP)

respectively targeting domestic & exports markets.
The Food Safety & Standards (Organic Foods) Regulations, 2017 are based on the standards of NPOP & PGS.
The consumer should look for the logos of FSSAI, Jaivik Bharat/PGS Organic India on the produce to establish the organic authenticity of the produce.
PGS Green is given to chemical free produce under transition to 'organic' which takes 3 years.
The organic e-commerce platform www.jaivikkheti.in is being strengthened for directly linking farmers with retail as well as bulk buyers.
Mission Organic Value Chain Development for North East Region (MOVCD-NER)
MOVCD-NER is a Central Sector Scheme.
It is a sub-mission under National Mission for Sustainable Agriculture (NMSA).
It was launched by the Ministry of Agriculture & Farmers Welfare for implementation in the all the North-Eastern states including Sikkim during the 12th plan period.
The scheme aims to development of certified organic production in a value chain mode to link growers with consumers.
The scheme supports the development of entire value chain starting from inputs, seeds, certification, to the creation of facilities for collection, aggregation, processing, marketing & brand building initiative.
Paramparagat Krishi Vikas Yojna (PKVY)
National Programme for Organic Production (NPOP)
The

Ministry of Industries & Commerce

is implementing the NPOP since 2001 with the following objectives:
To provide the means of evaluation of certification programme for organic agriculture & products.
To accredit certification programmes of Certification Bodies seeking accreditation.
To facilitate the certification of organic products in conformity with the prescribed standards.
To facilitate organic certification in conformity with the importing countries organic standards.
To encourage the development of organic farming & organic processing.
The Agricultural & Processed Food Products Export Development Authority (APEDA) is the implementation agency for the NPOP.
APEDA is providing assistance to the exporters of organic products under various components of its export promotion scheme.
Participatory Guarantee Scheme (PGS)
Union Agriculture Ministry

introduced PGS to incentivise more farmers to grow organic food.
PGS is an Operational Manual for

Domestic Organic Certification

published by the National Centre of Organic Farming, Ghaziabad.
PGS is a process in which people in similar situations (small producers) assess, inspect, & verify the production practices of each other & take decisions on organic certification.
PGS operates outside the framework of third-party certification.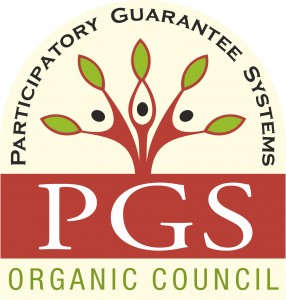 Advantages of PGS over third-party certification
Procedures are simple, documents are basic, & farmers understand the local language used.
As all members are practising organic farmers themselves, they understand the processes well.
Because peer appraisers live in the same village, they have better access to surveillance & the costs are low.
Mutual recognition between regional PGS groups ensures better networking for marketing.
Unlike the grower group certification system, PGS offers every farmer individual certificate, & the farmer is free to market his own produce independent of the group.
PGS ensures traceability until the product is in the custody of the PGS group, which makes PGS ideal for local direct sales & direct trade between producers & consumers.
Limitations of PGS
PGS certification is only for farmers that can organise as a group & is applicable only to activities such as crop production, processing, & livestock rearing, & off-farm processing by PGS farmers of their products.
Individual farmers or group of farmers smaller than five members are not covered under PGS.
They either have to opt for third party certification or join the existing PGS local group.
PGS is not ideal for furthering exports of organic produce due to apprehensions over peer-based certification.