Dedicated Freight Corridor: Western & Eastern Dedicated Freight Corridors
PIB | Prelims + Mains | GS3 > Infrastructure: Energy, Ports, Roads, Airports, Railways etc.
Context: PM dedicated to the nation the 306 Km New Rewari-New Madar Section of the Western Dedicated Freight Corridor (WDFC).
It is situated in Haryana & Rajasthan.
The opening of this stretch will benefit various industries in the surrounding areas of Rajasthan & Haryana.
What is a Dedicated Freight Corridor?
It is a high speed & high-capacity railway corridor that is

exclusively meant for the transportation of freight (goods

&

commodities)

.
On the normal lanes, goods trains must make way for passenger trains, thereby delaying freight movement.
The surging power needs requiring heavy coal movement, booming infrastructure construction, & growing international trade has led to the conception of the Dedicated Freight Corridors.
DFC involves the seamless integration of better infrastructure & state of the art technology.
It will allow for efficient & fast movement of freight (very important for the horticulture sector).
Dedicated Freight Corridor Project
Under Ministry of Railways.
The project involves the construction of

six freight corridors

traversing the entire country.
The purpose of the project is to provide a safe & efficient freight transportation system.
Initially, the construction of two freight corridors,
Western DFC

connecting the states of Haryana & Maharashtra &

Eastern DFC

connecting the states Punjab & West Bengal, is being undertaken.
The other four corridors include
North-South (Delhi-Tamil Nadu),
East-West (West Bengal-Maharashtra),
East-South (West Bengal-Andhra Pradesh) &
South-South (Tamil Nadu-Goa).
These four corridors are still in the planning stage.
In 2006, the Government of India established a dedicated body to implement the project, called the Dedicated Freight Corridor Corporation of India (DFCCIL).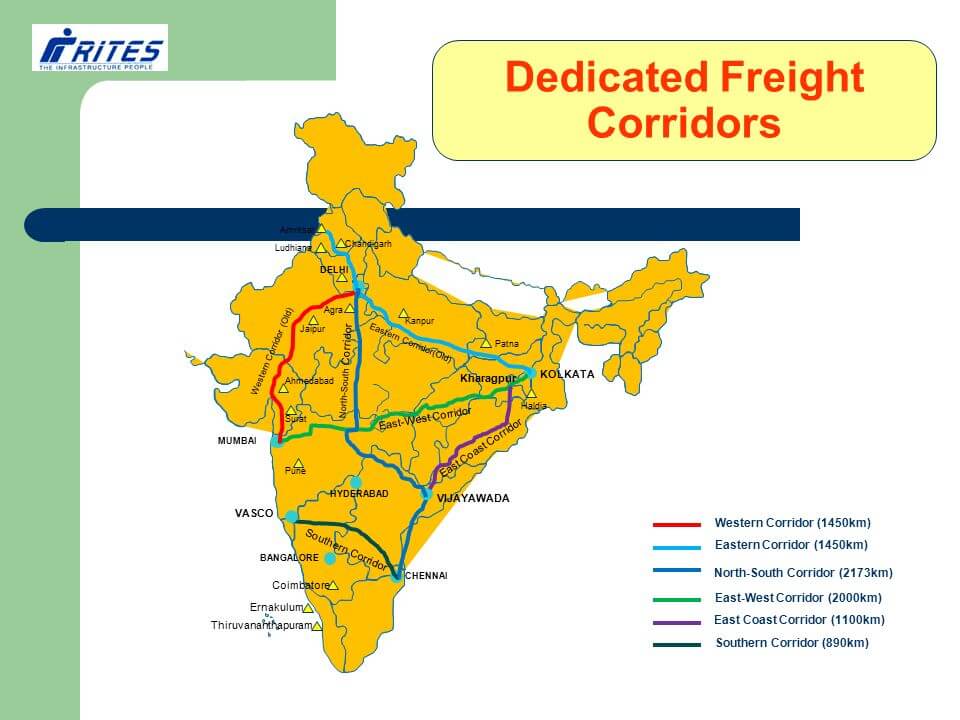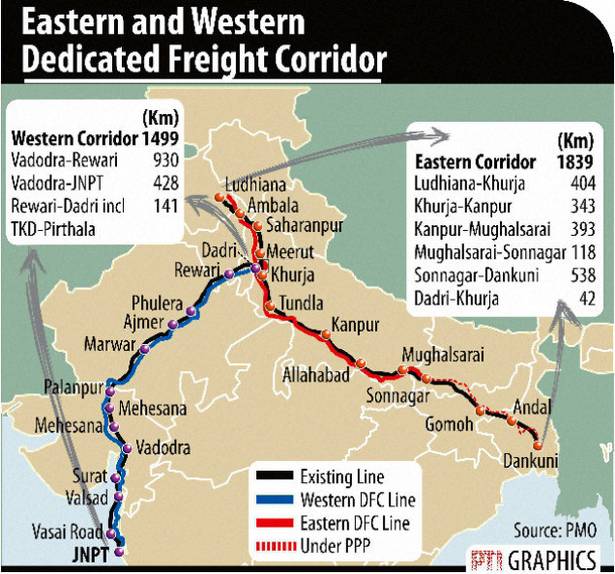 Significance
The diversion of freight to DFCs on trunk routes will free up the existing network for the kind of capacity expansion needed for passenger movement.
It will also integrate the Industrial Corridors.
In short
Logistics costs will be reduced.
Reduction in the unit cost of transportation,
Smaller organization & management cost,
Higher efficiency & lower energy consumption.
Faster movement of goods.
It is environmentally friendly.
Helps in generating more employment.
Western Dedicated Freight Corridor (WDFC)
Dadri, U.P to Jawaharlal Nehru Port, Mumbai-1,468 km
The WDFC covers Haryana, Rajasthan, Gujarat, Maharashtra & Uttar Pradesh.
It is being funded by the

Japan International Cooperation Agency

.
Eastern Dedicated Freight Corridor (EDFC)
Ludhiana Punjab to Dankuni West Bengal-1,760 km
The EDFC route covers Punjab, Haryana, Uttar Pradesh, Bihar, Jharkhand & West Bengal
The EDFC route has coal mines, thermal power plants & industrial cities.
Feeder routes are also being made for these.
EDFC is being funded by the

World Bank

.
Connecting Link for Eastern & Western Arm is under construction between Dadri & Khurja.