Soil erosion
Soil erosion is the loosening and displacement of topsoil particles from the land.
Pace Of Soil Erosion
Soil erosion in nature may be
a slow process (or geological erosion) or
a fast process promoted by deforestation, floods, tornadoes or other human activities. These two processes are explained below:
Water Erosion
Running water is one of the main agents, which carries away soil particles.
Soil erosion by water occurs by means of raindrops, waves or ice.
Soil erosion by water is termed differently according to the intensity and nature of erosion.
(i) Raindrop erosion (ii) Sheet erosion (iii) Rill erosion (iv) Steam banks erosion (v) Erosion due to landslides (vi) Coastal erosion.
Raindrop erosion
Raindrops falling on land surface cause detachment of the soil particles. The loose soil particles are washed away by flowing water.
An average size of raindrop is approximately 5 mm in diameter falling through the air hits the soil at a velocity of 32 km/hr.
Larger raindrops and gusts of wind hit the soil surface even at higher velocities.
Raindrops behave like tiny bombs when falling on exposed soil, displace soil particles and destroy soil structure.
Presence of vegetation on land prevents raindrops from falling directly on the soil thus erosion of soil in areas covered by vegetation is prevented.
With continued rainfall the displaced soil particles fill in the spaces between soil particles and so prevent water from seeping into the soil.
After some time this result in accumulation of water called 'ponding' on the land. This water begins to flow. This flowing water is called runoff. As the water moves it erodes the soil surface.
Sheet erosion
The detachment and transportation of soil particles by flowing rainwater is called sheet or wash off erosion. This is very slow process and often remain unnoticed.
Rill erosion
In rill erosion finger like rills appear on the cultivated land after it has undergone sheet erosion. These rills are usually smoothened out every year while forming. Each year the rills slowly increase in number become wider and deeper. When rills increase in size they are called gullies. Ravines are deep gullies.

Stream bank erosion
The erosion of soil from the banks (shores) of the streams or rivers due to the flowing water is called bank erosion.
In certain areas where river changes its course, the river banks get eroded at a rapid rate. Stream bank erosion damages the adjoining agricultural lands, highways and bridges.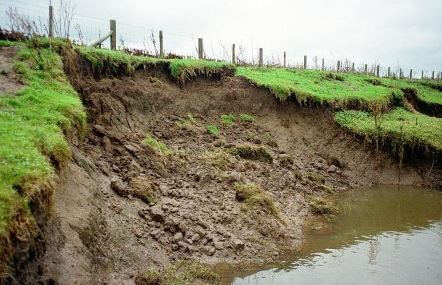 Landslide
Sudden mass movement of soil is called landslide. Landslides occur due to instability or loss of balance of land mass with respect to gravity.
Loss in balance occurred mainly due to excessive water or moisture in the earth mass.
Gravity acts on such an unstable landmass and causes the large chunks of surface materials such as soil and rocks slide down rapidly.
Coastal erosion
Coastal erosion of soil occurs along sea shores. It is caused by the wave action of the sea and the inward movement of the sea into the land.
Consequences of water erosion
The fine particles of the topsoil which contain the bulk of nutrients and organic matter needed by the plants are lost from soil erosion. Erosion removes the most fertile part of soil. The less fertile subsoil is left.
Erosion may result in removal of seeds or seedlings so that the soil becomes bare. Bare soil is more vulnerable to erosion both by wind and water.
Removal of seeds and seedlings reduces the ability of soil to store water.
Sheet, rill, gully and stream bank erosion also cause siltation of rivers, streams and fields. Deposition of silt results in damage of crops and pastures, and sedimentation of water bodies like streams, dams, reservoirs etc.
Sedimentation of water bodies deteriorate water quality and damage aquatic habitats and organisms.
Gully erosion also results in loss of large volumes of soil. Wider deep gullies sometimes reach 30 m and thus severely limit land use.
Large gullies disrupt normal farm operation.
Stream bank erosion not only causes loss of land, but also changes the course of a river or stream.
Stream banks erosion also damage public roads.
Mass movement of land or landslides also inhibits farm production and land use.
It also causes mortality in animals and humans.
Coastal erosion causes the adjourning land to become covered by sand.
Prevention of water erosion
It is essential to retain vegetation cover that soil is not exposed to rain.
Plants intercept rainfall and protect soil from direct impact of raindrops.
Cattle grazing should be controlled.
Crop rotation and keeping the land fallow (not planting anything in the soil for some time) should be adopted.
Vegetation and soil management should be improved in order to increase soil organic matter.
To prevent stream bank erosion runoff water should be stored in the catchment for as possible by maintaining vegetation cover and as by constructing dams for storing water.
For prevention or reduction of coastal erosion, protective vegetation along the beaches should be re-established.
The best method of controlling coastal dune erosion is not to disturb the dunes and the coastal system.
Further, construction of buildings and other development should be located behind the dune system.
Wind erosion
Soil erosion by wind is more common in areas where the natural vegetation has been destroyed. Such conditions occur mainly in arid and dry areas along the sandy shores of oceans, lakes and rivers.
The loose soil particles are blown and transported from wind by following three ways: (i) Siltation: blown by wind in a series of short bounces. (ii) Suspension: transported over long distances in the form of suspended particles. (iii) Surface creep: transported at ground level by high velocity winds.
Consequences of wind erosion
Wind erosion removes the finer soil material including organic matter, clay and slit, in a suspension (colloidal) form and leaving behind coarser, less fertile material.
Productive capacity of the soil is lost as most of the plant nutrients which remain attached smaller colloidal soil fraction are lost.
Wind erosion also damages roads and fertile agricultural fields by depositing large quantities of air blown soil particles.
Prevention of wind erosion
The vegetation cover over sandy soils should be kept above 30%.Access of wind to the soil should be controlled by leaving the stubble or mulch on the soil. (Stubble is the remains of crop left after harvesting).
Wind speed can be broken or controlled by planting trees in form of a shelter belt.
The practice of leaving the land fallow (i.e. not planting anything in the field) and use of machinery should be modified. This can be done by using direct- drilling techniques (ploughing the field) and by using direct-drilling techniques.
Over grazing by cattle should be avoided.
Soil Erosion Caused By Human Activities
Deforestation
Deforestation includes cutting and felling of trees, removal of forest litter.
Browsing and trampling by livestock, forest fires, also leads to cause deforestation etc.
Deforestation leads to erosion. Deforestation further leads to land degradation, nutrient and the disruption of the delicate soil plant relationship.
Farming
Crops are grown, harvested, land is ploughed and is exposed to wind. All this prevents replenishment of moisture.
Agriculture also causes the worst type of soil erosion on farmland in the form of wash-off or sheet erosion.
On the arid and semiarid areas, sand blows and sand shifts act in a similar fashion as sheet erosion does, where water is the chief agent. Consequently, a creeping effect of desertification sets in and the fertility of the land is lost progressively.
The following agricultural practices can lead to accelerated soil erosion
Tilling or ploughing increases the chances of erosion because it disturbs the natural soil surface and protective vegetation.
Continuous cropping: Continuous cropping of the same land and extending of cultivation of marginal and sub-marginal lands encourages soil erosion.
Cultivation on mountain slopes: Cultivation on mountain slopes without appropriate land treatment measures such as bounding, terracing and trenching cause soil erosion and loss of soil nutrients.
Monoculture: Monoculture refers to the practice of planting of the same variety of crop in the field.
Monoculture practices can lead to soil erosion in three ways.
A monoculture crop is harvested all at one time, which leaves the entire fields bare exposing it to both water and wind.
Without vegetation natural rainfall is not retained by the soil and flows rapidly over the surface rather than into the ground. It also carries away the top soil which results in soil erosion and degradation.
In the event any disease or pest invades the field , the entire crop is usually wiped out leaving the bare soil susceptible to water and wind.
Overgrazing
It means too many animals are allowed to feed on a piece of grassland. Trampling and grazing by cattle destroys the vegetation of the area.
In the absence of adequate vegetative cover the land becomes highly susceptible to both wind and water erosion.
Economic activities
Soil erosion also occurs due to economic activities. The extraction of useful natural resources such as metals, minerals and fossil fuels etc., from the land causes serious disturbance to the land leading to soil erosion and drastic changes in the landscape.
Developmental activities
Soil erosion may also occur because of various developmental activities such as housing, transport, communication, recreation, etc.
Building construction also promotes soil erosion because accelerated soil erosion takes place during construction of houses, roads, rail tracks etc.
The construction of such facilities causes massive disturbance to land, resulting in soil erosion and disruption of natural drainage system.
Soil degradation and soil conservation are already explained under "Indian Geography"
Desertification
Desertification is diminution of the biological potential of the land which ultimately leads to the formation of desert.
The land that has lost its productivity (ability to grow plants) is called a desert.
A desert landscape supports a very limited growth of sparse vegetation and stunted growth of plants.
Substantial part of earth's terrestrial area is facing desertification due to overexploitation and mismanage of land resources for human activities. Some of the principal causes, which promote desertification, are: over cultivation, overgrazing, deforestation, and salt accumulation due to irrigation.
Over Cultivation
Every cycle of cultivation is preceded by ploughing to remove weeds. The ploughed land turns soil upside down thus exposing rich sub-soil to wind and water erosion.
Such land may remain barren for most part of the year and in turn lose more soil due to erosion. Such erosion is most pronounced on slopes.
Moreover, in regions where rainfall is low, the soil is often dry and is more susceptible to erosion. Ploughed soil loses more water by evaporation.
Overgrazing
Deserts receive less rainfall. Deserts have sparse vegetation mostly consisting of grasses and herbs less and best used for grazing.
Overgrazing by goats, domestic cattle remove the protective vegetation and expose the soil. Further the movement of grazing animals loosen the soil surface by their hoofs.
Unprotected loose soil becomes highly susceptible to erosion by wind and water. Such conditions leads to progressive desertification.
Deforestation
Forests and vegetation prevent soil erosion and to hold water in soil. Plant roots absorb and recycle nutrients released from the decaying organic matter.
Forests are often cleared to agriculture, timber, construction wood, firewood, raw material for paper etc. All this leads to barrenness of the land leading to desertification.
Salting due to Irrigation
With demand for more land for agriculture, crops are grown in areas that have little access to natural water bodies.
The water is supplied to these growing areas by artificial means and improved irrigation methods. Such water brings salts dissolved in it.
Even the best quality of irrigation water contain 200-500 ppm of salts. Water used for irrigation is lost from agriculture field through evaporation and transpiration by crop plant. The water gets evaporated but the dissolved salt keeps on accumulating which makes the soils more salty.
Saline accumulation retards plant growth. Land devoid of plant cover easily becomes desertified.
Accumulation of excessive salt in soil or salinization makes the soil unfit for agriculture.