Pollutants And Trophic Level
Chlorinated Hydrocarbons (CHC) or Organochloride
Pollutants, especially non-degradable ones move through the various trophic levels in an ecosystem. Non-degradable pollutants mean materials, which cannot be metabolized by the living organisms. Example: Chlorinated Hydrocarbons.
Chlorinated Hydrocarbons or Organochloride or CHC are hydrocarbons whose some or most hydrogen atoms have been replaced by chlorine E.g. DDT, endosulfan etc.).
A variety of simple chlorinated hydrocarbons including dichloromethane, chloroform, and carbon tetrachloride.
Applications of CHC
Production of vinyl chloride almost all of which was converted into polyvinylchloride (PVC) [PVC pipes].
Chloroform, dichloromethane, dichloroethene, and trichloroethane are useful solvents. These solvents are immiscible with water and effective in cleaning applications such as degreasing and dry cleaning.
Pesticides and insecticides such as DDT, heptachlor, and endosulfan are CHCs.
Effects of CHC
Dioxins (highly toxic organic compound produced as a by-product in some manufacturing processes), produced when organic matter is burned in the presence of chlorine, and some insecticides, such as DDT, are persistent organic pollutants.
DDT, which was widely used to control insects in the mid-20th century, accumulates in food chains, and causes reproductive problems (e.g., eggshell thinning) in certain bird species.
DDT residues continue to be found in humans and mammals across the planet many years after production and use have been limited.
In Arctic areas, particularly high levels are found in marine mammals. These chemicals concentrate in mammals, and are even found in human breast milk.
In some species of marine mammals, particularly those that produce milk with a high fat content, males typically have far higher levels, as females reduce their concentration by transfer to their offspring through lactation.
Endosulfan became a highly controversial agrichemical due to its acute toxicity, potential for bioaccumulation, and role as an endocrine disruptor (enhances the effect of estrogens causing reproductive and developmental damage in both animals and humans).
Because of its threats to human health and the environment, a global ban on the manufacture and use of endosulfan was negotiated under the Stockholm Convention in April 2011.
Movement of these pollutants involves two main processes:
Bioaccumulation.
Biomagnification.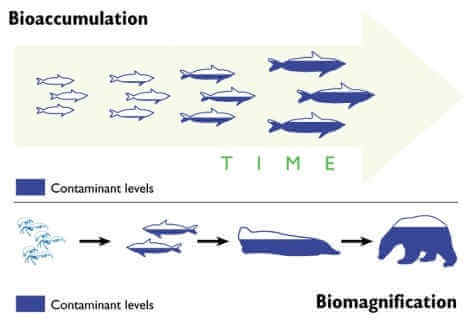 Pic Credits: http://mercurypolicy.scripts.mit.edu
Bioaccumulation
It refers to how pollutants enter a food chain.
In bioaccumulation there is an increase in concentration of a pollutant from the environment to the first organism in a food chain.
Biomagnification
Biomagnification refers to the tendency of pollutants to concentrate as they move from one trophic level to the next.
 Thus in biomagnification there is an increase in concentration of a pollutant from one link in a food chain to another.
In order for biomagnification to occur, the pollutant must be: long-lived, mobile, soluble in fats, biologically active. E.g. DDT.
If a pollutant is short-lived, it will be broken down before it can become dangerous.
If it is not mobile, it will stay in one place and is unlikely to be taken up by organisms.
If the pollutant is soluble in water, it will be excreted by the organism. Pollutants that dissolve in fats, however, may be retained for a long time.
It is traditional to measure the amount of pollutants in fatty tissues of organisms such as fish.
In mammals, we often test the milk produced by females, since the milk has a lot of fat in it and is often more susceptible to damage from toxins (poisons).