A layer of ozone preset in the atmosphere (stratosphere) protects the biosphere from the harmful effects of UV radiation by absorbing them.
Ozone depletion or ozone hole refer to the damage suffered by the ozone layer due to natural and anthropogenic causes.
Each of the factors/causes responsible for ozone depletion are explained below.
Ozone Hole – Ozone Depletion
Polar vortex and ozone depletion are two distinct but related phenomena.
Ozone gas is continuously formed by the action of UV rays on molecular oxygen in the stratosphere. Also, ozone is simultaneously degraded into molecular oxygen in the stratosphere.
There should be a balance between production and degradation of ozone in the stratosphere so that there is a continuous layer of ozone.
Of late, the balance has been disrupted due to enhancement of ozone degradation by chlorofluorocarbons (CFCs) [chlorofluorocarbons (CFCs) are halocarbons]. There is a steady decline of about 4% in the total volume of ozone in Earth's stratosphere.
Much larger decrease in stratospheric ozone is observed around Earth's polar regions.
Halocarbon == a compound in which the hydrogen of a hydrocarbon is replaced by halogens like chlorine, bromine, iodine etc.
Halogen == group of reactive non-metallic elements like fluorine, chlorine, bromine, iodine, and astatine.
The thickness of the ozone in a column of air from the ground to the top of the atmosphere is measured in terms of Dobson units (DU).
The ozone measurement instruments and techniques are varied. Some of them are the Dobson spectrophotometer and the filter ozonometer called M83.
Halogen atoms like chlorine destroy ozone
Photodissociation (under the influence of sunlight) of ozone-depleting substances (ODS) like
halocarbon refrigerants (CFCs),
halocarbon solvents (Methyl Chloroform, carbon tetrachloride),
propellants, and foam-blowing agents (CFCs, HCFCs, carbon tetrachloride and trichloroethane, freons, halons [used in firefighting])
creates free chlorine atoms that destroy ozone.
Bromine containing compounds called halons and HBFCs, i.e. hydrobromo fluorocarbons [both used in fire extinguishers and methyl bromide (a widely used pesticide)] release bromine atoms similar to CFCs that release chlorine atoms.
Each bromine atom destroys hundred times of more ozone molecules than what a chlorine atom does.
Q1. Consider the following statements: Chlorofluorocarbons, known as ozone-depleting substances, are used
in the production of plastic foams
in the production of tubeless tyres
in cleaning certain electronic components
as pressurizing agents in aerosol cans
Which of the statements given above is/are correct?
1, 2 and 3 only
4 only
1, 3 and 4 only
1, 2, 3 and 4
Answer: c) CFCs were used as refrigerants, pressurizing agents (foam and aerosol cans) and for cleaning electronic equipment.
But how does a chlorine atom reach to such high levels of atmosphere?
Methane (CH4), chlorofluorocarbons (CFCs), nitrous oxide (N2O) and water are injected into the stratosphere through towering tropical cumulus clouds.
These compounds are broken down by the ultraviolet radiation in the stratosphere.
The ozone depletion is significant near poles (especially south pole) than at any other place. This is because of high altitude polar clouds called Polar Stratospheric Clouds formed during Polar Vortex events.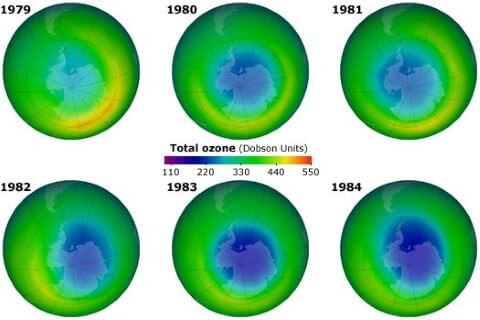 Polar Vortex
Polar vortex (circumpolar vortex) is a polar cyclone.
A polar vortex is a large pocket of very cold air, typically the coldest air in the Northern Hemisphere, which sits over the polar region during the winter season.
Polar vortex is closely associated with jet streams [Rossby waves].
It is formed mainly in winter and gets weaker in summer.
It surrounds polar highs and lie within the polar front (boundary separating the temperate and polar air masses).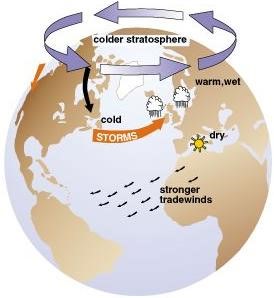 Polar Stratospheric Clouds (PSCs)
Extend from 12 km – 22 km above the surface.
They are nacreous clouds.
Nacreous clouds
Nacreous clouds, sometimes called mother-of-pearl clouds, are rare clouds.
They are mostly visible within two hours after sunset or before dawn.
They form in frigid regions of the lower stratosphere, some 15 – 25 km (9 -16 mile) high and well above tropospheric clouds.
They are bright even after sunset and before dawn because at those heights there is still sunlight.
They are seen mostly during winter at high latitudes like Scandinavia, Iceland, Alaska and Northern Canada. Sometimes, however, they occur as far south as England.
PSCs or nacreous clouds contain water, nitric acid and/or sulfuric acid.
They are formed mainly during the event of polar vertex in winter; more intense at south pole.
The Cl-catalyzed ozone depletion is dramatically enhanced in the presence of polar stratospheric clouds (PSCs) [Finally this how polar vortex contributes to ozone depletion].
A number of naturally occurring substances like Hydrogen oxide (HOx), Methane (CH4), Hydrogen gas (H2), Nitrogen oxides (NOx) aid the process of ozone depletion.
PSCs convert "reservoir" compounds into reactive free radicals (Cl and ClO).
These free radicals deplete ozone as shown in the animation below.
So PSC accelerate ozone depletion.
Q2. The formation of ozone hole in the Antarctic region has been a cause of concern. What could be the reason for ozone depletion at poles?
Presence of prominent tropospheric turbulence; and inflow of chlorofluorocarbons
Presence of prominent polar front and stratospheric Clouds and inflow of chlorofluorocarbons
Absence of polar front and stratospheric clouds; and inflow of methane and chlorofluorocarbons
Increased temperature at polar region due to global warming
Answer: b) Presence of prominent polar front and stratospheric
Clouds and inflow of chlorofluorocarbons
Harmful Effects of Ozone Depletion
Effects on Humans
UV rays are highly injurious to living organisms since DNA and proteins of living organisms preferentially absorb UV rays, and its high energy breaks the chemical bonds within these molecules.
UV radiation of wavelengths shorter than UV-B, are almost completely absorbed by Earth's atmosphere, given that the ozone layer is intact.
But if UV-B manages to reach the troposphere due to ozone depletion, DNA and mutation may occur. It causes aging of skin, damage to skin cells and various types of skin cancers.
In human eye, cornea absorbs UV-B radiation, and a high dose of UV-B causes inflammation of cornea, called snow-blindness cataract, etc. Such exposure may permanently damage the cornea.
In short
Increased susceptibility to skin-cancer
Increase cataract (a medical condition in which the lens of the eye becomes progressively opaque, resulting in blurred vision)
Damage DNA (DNA mutations)
Damage to cornea and causes retinal diseases
Suppresses human immune systems
Effects on terrestrial plants
Psychological and developmental processes of plants are affected by UV-B radiation.
Inhibits photosynthesis
Inhibits metabolism
Represses growth
Destroys cells
Causes DNA mutations
Decline in forest productivity
Effects on aquatic ecosystems
Exposure to solar UV-B radiation has been shown to affect both orientation mechanisms and motility in phytoplankton, resulting in reduced survival rates for plankton population adversely affecting marine food chain.
Marine/freshwater organisms are very sensitive to UV-rays. E.g. Corals
Effects on air quality
Increase in UV-B radiation result in higher photo dissociation rates of key trace gases that control the chemical reactivity of the troposphere.
This can increase both production and destruction of ozone (03) and related oxidants such as hydrogen peroxide (H202), which are known to have adverse effects on human health, terrestrial plants, and outdoor materials.
Changes in the atmospheric concentrations of the hydroxyl radical (OH) may change the atmospheric lifetimes of climatically important gases such as methane (CH4) and the CFC substitutes.
Increased tropospheric reactivity could also lead to increased production of particulates such as cloud condensation nuclei, from the oxidation and subsequent nucleation of sulphur.
Effects on materials
Accelerate breakdown of paints
Accelerate breakdown of plastics
Affect temperature gradient levels in the atmosphere
Affect atmospheric circulation pattern, climatic changes.
Measures to Prevent Ozone (O3) Layer Depletion
Monitoring of ozone layer is taken up by
World Meteorological Organization (WMO)
World Weather Watch (WWW)
Integrated Global Ocean Services Systems (IGOSS)
Global Climate Observing System (GCOS)
CFC substitutes
Further, use of HCFCs (Hydrochloric fluorocarbons) as a substitute for CFCs is being recommended on temporary basis because HCFCs are relatively less damaging to ozone layer as compared to CFCs, but they are not completely ozone safe.
International Efforts
Recognizing the deleterious effects of ozone depletion, an international treaty, known as the Montreal Protocol, was signed at Montreal (Canada) in 1987 (effective in 1989) to control the emission of ozone depleting substances.
Vienna Convention for the Protection of the Ozone Layer
Multilateral Environmental Agreement.
It was agreed upon at the Vienna Conference of 1985 and entered into force in 1988.
It acts as a framework for the international efforts to protect the ozone layer.
However, it does not include legally binding reduction goals for the use of CFCs, the main chemical agents causing ozone depletion. These are laid out in the accompanying Montreal Protocol.
Montreal Protocol
The Montreal Protocol on Substances that Deplete the Ozone Layer (a protocol to the Vienna Convention for the Protection of the Ozone Layer) is an international treaty designed to protect the ozone layer by phasing out the production of numerous substances that are responsible for ozone depletion.
It was agreed in 1987, and entered into force in 1989, followed by a first meeting in Helsinki, May 1989. Since then, it has undergone eight revisions.
As a result of the international agreement, the ozone hole in Antarctica is slowly recovering.
Climate projections indicate that the ozone layer will return to 1980 levels between 2050 and 2070.
It is the single most successful international agreement to date.
The two ozone treaties (Vienna Convention and Montreal Protocol) have been ratified by 197 parties [196 UN states + European Union] making them the first universally ratified treaties in United Nations history.
UN Framework Convention on Climate Change is also ratified by 197 parties.
Q3. Which one of the following is associated with the issue of control and phasing out of the use of ozone-depleting substances?
Bretton Woods Conference
Montreal Protocol
Kyoto Protocol
Nagoya Protocol
Bretton Woods Conference established the International Bank for Reconstruction and Development (IBRD) and the International Monetary Fund (IMF).
Montreal Protocol is an international treaty to protect the ozone layer by phasing out the production of ozone depleting substances. It is legally binding.
Kyoto Protocol implemented the objective of the UNFCCC to fight global warming by reducing greenhouse gas concentrations in the atmosphere to "a level that would prevent dangerous anthropogenic interference with the climate system". It is binding on the parties.
Nagoya Protocol is a supplementary agreement to the 1992 Convention on Biological Diversity (CBD) on "Access to Genetic Resources and the Fair and Equitable Sharing of Benefits Arising from their Utilization".
Answer: b)